How to plan my one year daughter birthday party?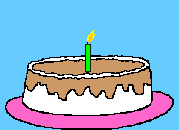 India
January 16, 2007 6:46am CST
I have no idea what to do for the activities as this is my first child and i know everyone in the house will be too excited to know what will happen in the party. But how do you entertain a bunch of screaming and running kids who came for the party of my daughter and they expect a good party which they can remember always. please help me for the same.
2 responses

• Australia
16 Jan 07
I think one year old is probably a bit young for too many party games, I thinkan important part is to have a nice setting and have lots of nice photos taken then have one of those beautiful DVD's they make up these days with all the affects and music....something to give her on her 21st Birthday...

• Lillington, North Carolina
3 Apr 16
A 1yr old wont really need much to entertain them,but the older kids will. coloring, a ball to play in yard with,board games,movies,music,singing and dancing.