I am member of 2 many communities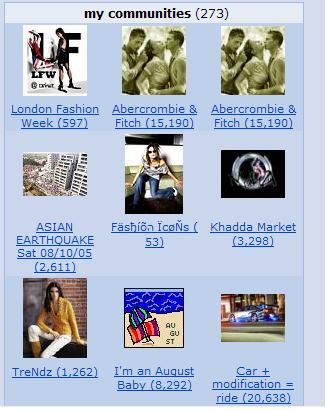 Pakistan
January 17, 2007 5:33am CST
Hi... r u also one of thoes who join everyother community? well yes i am that kind of.. i have at this date membership in 273 communities.. isnt that 2 mujch tell about urs?do u really get time 2 visit all thoes? or write in thoes? im hardly active in couple of my communites....
7 responses


• India
17 Jan 07
I have joined 9 communities on Orkut and i check them regularly i dont like to keep joining communities it doesnt make sense to me as you know you will never get so much time to check them... Thats why i have joined a few which i am really interested in...

• India
17 Jan 07
I visit da very important ones which is most useful 2 me..

• India
17 Jan 07
well i have joined in 56 communities i dont really get time to check all those i just check out my own community daily

• India
17 Jan 07
Ohhh!!! really great...how can you get time for all this..member of 273 communities..I just can't do it as usually i am getting a little time from my work and is very valuable for me.I can only suggest you that keep your membership restricted to only the valuable stuff and enjoy it.