Are you a Bag-a- holic or a Shoe Addict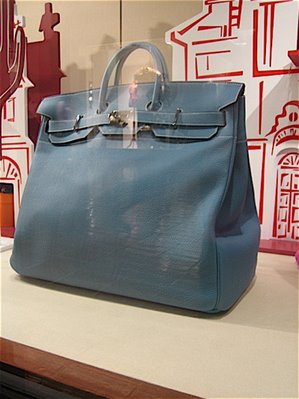 Philippines
January 17, 2007 12:13pm CST
There are two kinds of women a bag-a-holic and a shoe addict. I am a bag lady and proud of it
8 responses

• Israel
17 Jan 07
I'm a shoe addict for sure ! I just love shoes and I always trying to match them to my clothes that i'm wearing. I also like the colorful shoes instead of black or gray shoes. It's boring for my opinion. I like being colorful person and shoes help me to look like one. Too bad that I don't have anough money to buy all ths shoes that I desire. I'm working hard on myLot to get some that are my favors.

• Philippines
17 Jan 07
Wow! You really match them with your clothes. Cant wait to see your shoe collection!

• United States
19 Jan 07
Oh i am a bag-a-holic by far. I have a million different kinds of purses name brands or not, but i have never really been much of a shoe person

• Philippines
19 Jan 07
it just not completes the wardrobe...it completes my day too

• United States
17 Jan 07
I'm a bag-a-holic. I have to have a new purse all the time. If I see one in the store that I like I will buy it even if I have a brand new purse. I got one for christmas that my hubby's stepmom had made for me. It's so cute!!

• Philippines
19 Jan 07
really? can i see it?..i really appreciate bags even if its not branded...im such a bag addict

• Philippines
16 Mar 07

oh this one is a toughie..hmmm,let me see.i should weigh this bags vs. shoes..i think i have more bags than shoes,but i love them both it's just that i love to brong a lot of stuff:make up,sanitizer,pen,car keys,etc.i also bring bags according to my mood,lets say if i want to be sporty,i bring my backpack or if i want to have a chat over cofer,i just bring my handbag or if i attend a party,there is also another bag to bring.and i also jazz up my own bag.:)

•
15 Feb 07
I'm more of a shoe person. I actually prefer boots, but they just seem hard to come by here in the UK. What's up with these heels? Long skinny heels on boots are just not for me. What ever happened to the low heels? It is hard finding a pair that fit over here. I still have to buy them from the States and have my friends mail them over.