Having a bit of trouble with my turtle

January 17, 2007 3:35pm CST
Hi, I've had my turtle for nearly a year now and he has provided some quality entertainment for the family. His character has really developed and is often commented on by visitors. However just recently, over the last few weeks he has become a bit destructive, he is constantly pulling the filter from the glass and crawling under it and today he was trying to bite the heater. This isn't my main concern though, as he has begun trying to eat the silicone sealant of the tank in the corners. You can hear him when he pulls at it and it snaps back. I am wanting to know if this would harm him if he ate any of it and also is there anyway to stop him from doing so? I can distract him from it with food but I don't want to overfeed him. Can anyone help? Thanks.
1 response

• Sweden
18 Jan 07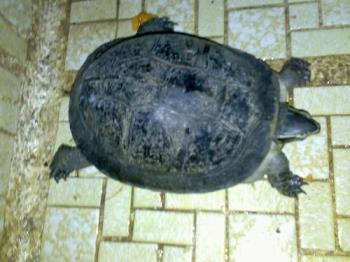 i have my turtle for two years now. i feed him like twice a day. and he is patient and behaved. i think it will harm pets when they eat something like filters and so. my turtle is just in a clean place. he has a place where he can access water and no other things aside. that way, he won't be eating anything or biting anything that he sees. i suggest you do that, too. it's okey if you don't put too much in your turtle tank. just give him a place where he can get water and dip himself into.

•
18 Jan 07
Ok, cool. The only things in the water with my turtle is the filter and the heater, I have rigged a bit of driftwood to hang from the tank canopy to provide a basking platform which he seems to enjoy quite alot. So like I said the tank is completely empty apart from the filter in the corner and the heater along the back. He is so perceptive and notices the littlest things, the label on the heater for instance was ever so slightly peeling back and he managed to get the thing half off before I noticed and removed it safely. As far as I'm aware he hasn't managed to get any of the silicone off the corner and he is just pulling at it. Perhaps if I just patch it up so it isn't raggy he won't be able to get to it.