Jumping rope as a good cardiovascular workout.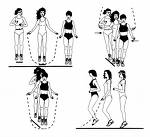 Philippines
January 18, 2007 12:03am CST
I have noticed there are a lot of people here who are on a diet and sometimes seek advice from others. I would like to share something. I read that jumping rope or rope skipping for at least 10 minutes could be a great alternative if you didn't manage to go to the gym to have your daily workout.It is not just a simple exercise or a game that we used to play when we were young. It is beneficial, fun and cheap. You will sweat a lot for sure. You don't need to buy costly machines to do this.
4 responses

•
18 Jan 07
Yep I have read that before, it'a full body workout. One better, I am not coordinated enough for a jump rope, LOL, so the next best thing is jumping jacks. I just added those to my morning routine. I turn on my favorite show, stand in front of the TV and have at it. I can even adjust the impact by slowing my speed down.

• Philippines
18 Jan 07
Wow that's great. I see theres another alternative for rope skipping.

• Philippines
25 May 07
let us do this early morning habit to help us. if i had known this earlier, i might have not come this heavy. too bad, doing steady jogging has become a task for me already.

• Philippines
11 Sep 12
I agree. Jumping rope is so affordable than to buy machines and i think it is much effective than other expensive machines. I feel that i'm getting bigger and i need to lose some weight so i try to look for some good exercise and then i found out that jumping rope is so effective and i starting to like it. Now in my age, i try to play jumping rope as my exercise and after using jumping rope i feel immediately the effects on my muscle..It is so good..


• Philippines
25 May 07
yes, this is an easy exercise, cheap and can be done on a small space only. jumping rope, skipping rope and jumping jack are all good exercises for the body which rids us of some unwanted toxins that has been set in our bodies.

• United States
18 Jan 07
I also think that it sounds like fun! ^_^ You're right, it is a very cost-effective way to exercise and work up a real sweat without having to spend basically any money. All you need is a good piece of rope! I wish that I knew where we had a piece of rope around here so that I could try it, lol! Of course, the rest of the family would probably look at me rather funny if I did, since we went to the trouble to purchase a really nice treadmill a few years ago just so that the family could get more exercise. And none of us use it nearly enough, lol. But I would love to jump rope every once in awhile. It would be great exercise and also bring back great memories of childhood! ^_^