Nokia Rocks

India
January 18, 2007 1:15am CST
What you wanna say about Nokia? isnt it always rocking ?
10 responses

• India
18 Jan 07
yeah NOKIA really rocks , am using nokia from the long long long period but then i swithced to Sony but still , according to me NOKIA still rocks hey good job , 100 up .. :) aur abhi kahan ho aur kya kar rahay ho ? posting chal rahi hai ?

• India
18 Jan 07
well mein to ghar per hoon bus 6-9 class hai to mein chala jaonga yahan say 4:30 tak baki mein .. 12 tak uth gaya tha , posting mein bhi koi khass nahien kar raha hoon mera mood nahien ho raha hai , bus aisay hi topics parh raha hon .... kuch to buhat intresting hai , jo buhat ziada zaroori lag raha hai bus wohi post kar raha hoon because abhi mera bhi koi khass mood nahien ho raha hai posting ka.


• India
18 Jan 07
yes i agree with you, Nokia is too much freindly user.

• Sweden
18 Jan 07
yep. i had tried motorola once. it was my first mobile phone ever! and it was so hard to use! it's great i switched to nokia and i had been a nokia addict ever since.



• Philippines
18 Jan 07
i also like nokia, but i hope they resolve the problems arising from their n-series phones. I'm experiencing some firmware problems lately with my n73, and n91 phones. It just restarts by itself. But generally, nokia is the best choice for me.

• Sweden
18 Jan 07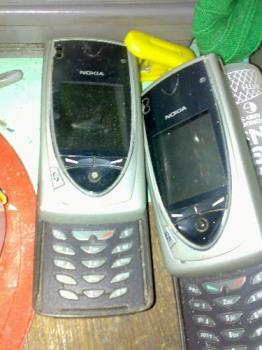 for me, nokia phones are the best mobile phone i have ever had. the features are great. the functions are user friendly. plus the designs are so unique. i am a nokia lover. no matter how many times i change the model of my phone, i still stick to nokia.

• India
18 Jan 07
Nokia as the best range of cell phones in todays market.... Nokia cell phones are the most user friendly/ easy to use cell phones compared to brands like Motorola, Samsung, LG, Sony Erricson,etc...



• Singapore
28 Dec 07
Heys, yeah i totally agree with you samraf, nokia rocks my world. I've have had experiences with other brands such as motorola, sony ericsson, etc. But nothing sticked with me like nokia phones. Besides good quality functions, i find nokia phones just attractive. Furthermore, here in my country, the prices of nokia phones rarely drop so if you want to sell your old nokia phone, the value is still there and you would not feel so bad. Other models, you can experience loss up to 50% when selling it back. :D