Microsoft Windows vs FreeBSD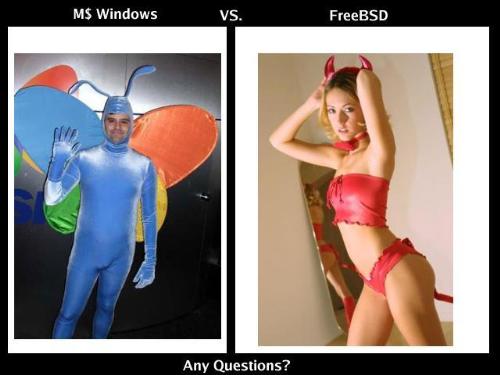 Bulgaria
3 responses

• Bulgaria
3 Feb 07
RxONE1 is right, but then again - it's not illegal to do that. Whoever knows what BSD is, can answer. Period. So - FreeBSD (or any BSD) of course. I think that Windows is falling and falling fast. I am on Linux and Windows (just for support).

• Bulgaria
3 Feb 07
I must correct myself - FreeBSD is not Linux. It's more Unix-based.

• United States
18 Jan 07
you didn't write anythings thats give sense Most of us don't know what is FreeBSD and you just wrote Windows VS FreeBSD anyway i will just write somethings about it FreeBSD is one of the greatest OS thats are been using in shell companies and web hosting its one of the securitest system thats you can find (more then linux if we can say that) Windows is an os thats been made by Microsoft with an easy GUI thats makes the user control most things without the need to write or compile stuff on it but its licks of security.

• Bulgaria
18 Jan 07
Yeah dude you are right i forgot to write something about "FreeBSD": FreeBSD is a Unix-like free operating system descended from AT&T UNIX via the Berkeley Software Distribution (BSD). It runs on Intel x86 family PC compatible systems (including the Microsoft Xbox), and also DEC Alpha, Sun UltraSPARC, IA-64, AMD64, PowerPC and other architectures. For more information visit: http://en.wikipedia.org/wiki/FreeBSD (*rate me*)