Wallpaper Fan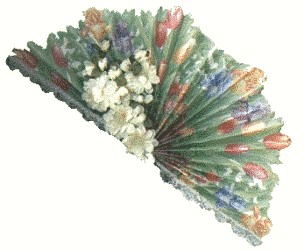 Australia
6 responses


• United States
18 Jan 07
Oh that is such a great idea, I could hang them on the wall or place it on a table...really like it...I guess I am saving this one also...Thanks...SS

• Australia
18 Jan 07
yes I am thinking od even making very small ones and putting glitter on them (I love glitter) and putting them on cards.


• Australia
16 Mar 07
I made one of these to put up on the wall, you could make beautiful ones with some of the wallpapers around but wallpaper is expensive so it is good for people with leftover papers...

• United States
13 Mar 07
What a wonderful idea. I have a whole box of wall paper that my grandparents gave me when I bought my new house and I haven't used it. They got it from a store that was going out of business I think but there is some really pretty paper in there Thanks for posting this and keep all the cool ideas coming.

• Australia
13 Mar 07
I did make one of these and I have received many nice comments on it...

• United States
18 Jan 07
I checked this out and it looks really pretty. Now that I know about the wall fans I'm going to attempt to make one for the bathroom, wish me luck.

• Australia
18 Jan 07
Yes good luck, I might go look at some wallpaper today, be good for people who have heeps of scraps.