have you ever gotten roses?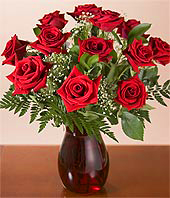 United States
4 responses

• Sweden
19 Jan 07
yes. from my boyfriend who is in sweden (i am from the philippines). he ordered roses for me online. what surprised me was there was really no occasion at all at the moment. and i was really very happy to receive the roses!

• United States
23 Jan 07
that is sweet and what a surprise I once got a dozen long stem roses delivered to work what a surprise bgut now I am married and no more flower deloiveries boo hoo

• Indonesia
19 Jan 07
unfortunatelly noone till now sending me a rose inmy special occasion although i really want to have it:)

• United States
23 Jan 07
Maybe some day you will receive roses when you least expect them

• United States
23 Jan 07
Yes I have received flowers on several different occasions over the years but I have to admit it has been awhile since I have gotten any.

• United States
19 Jan 07
Yes I have received them many times. One time my boyfrien sent me 8 dozen red roses at work. One dozen for each year we had been dating. They were beautiful, but let me tell you, that's ALOT of Roses...lol