Dj or the song?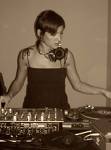 Nepal
January 19, 2007 12:28am CST
In the club most of parties were just rock when there is dj playing songs for the party.But does really Dj rock or make party intresting or the songs of the celebreties.What do you think? I just think that the way the dj palyed the songs for the party just make rockin and intresting.If the song just played to in the parties without Dj may be it will make party some intresting but not much as when the Dj play the song with his skill and techniques....
4 responses

• Nepal
19 Jan 07
Its own da' hands of Djs to make da songs interesting.... DA songs which are already hits can easily make da people move their buttys but to make them dancin in unpopular songs is Djs work...

• India
19 Jan 07
I thisnk DJ as they make all of us rock to their remix songs and its always fun as they make the party lively

• Nepal
19 Jan 07
of course dj....they mix the music and give the music some extra flavour....dj is cool...to really rock the party and make the party hot whole time dj should mix the songs in a correct form...