What's your dream car and why?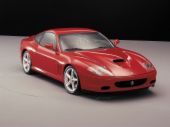 United States
January 19, 2007 2:22am CST
If you had your choice of any car in the world to own, what would it be and why? Because it's fast? Because it's sleek? Maybe just historically neat? I know someone will ask, mine choice would be a Ferrari 550 Maranello. It's no longer in production but, in my opinion, is still one of the most beautiful cars ever built. Mario Andretti once told of how stable the car was 193mph after driving a production version with traction control and air conditioning. I joke that Ferrari doesn't have engineers, they have artists.
6 responses


• United States
19 Jan 07
It is a very nice car. I saw one about a year ago in traffic as part of a rally called the Player's Run.

• India
20 Jan 07
lucky u i only see it on tv and stuff

• India
20 Jan 07
well taking the money matters into point..... my current favourite car is a HONDA ACCORD.. and the dream car AUDI TT COUPE

• United States
20 Jan 07
Yeah, didn't they have to add a rear wing to it to get enough down force to keep it under control at speed? I seem to recall some crash issues due to lack of down force.

• United States
19 Jan 07
Oh yeah. The Ferrari GTO was a truly neat car as well. What year are you thinking? I liked the later style that was similar to the 328


• United States
19 Jan 07
Are you talking about the brand new ones or the last generation? The old M5 was a neat car.


• United States
22 Jan 07
My dream car is a 1967 mustang...its classic and fast...how can you beat that?

• United States
23 Jan 07
Oh maybe with a Shelby GT350R. lol That's about the only thing I can think of.