Does anyone else love rock climbing

Australia
January 19, 2007 3:56am CST
I love it...the adrenalin, the thrill of making it to the top, the view when you get there and even coming back down gets my heart pumping. Does anyone else just love the feeling of getting to the top of a wall?
7 responses


• Philippines
30 May 07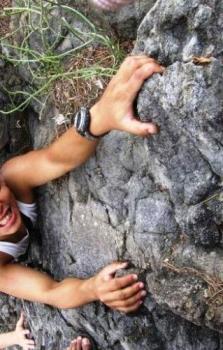 Rock climbing appears to me to be very dangerous but thrilling of course. I didn't and don't like to do it but I look at people doing it and I envy them being on the top and seeing as far as the eyes can see overlooking everywhere. How nice it is to see the beautiful creation of God around.

• India
25 Apr 07
Hey count me in!! i like rock climbing a lot. A did it first time when i was 20 and the passion is growing day by day... I think everyone should try ti. All you need is good power in your shoulders and thighs thats all. Many people think its an act of bravery or something like that. But once you do it..the fear goes away, you then wanna do it again and again. But remember one thing- u need a mentor, a guide who himdelf knows rock climbing very nicely...then it will be all easy for you...

• Canada
19 Apr 07
I love climbing..I love everything about it really. It's a great workout, you meet great people, its fun, its outdoors, its adventurous, and you learn so much about yourself in the process. I think this post sums it up nicely: http://www.ryansbombard.com/rants/climbing-more-then-just-a-sport/

• Philippines
17 Feb 07
I had a few outdoor trips. most I do indoor wall climbing. I was introduce to the wall since 1997 but only got serious about it last year. Its not only the andrenalin that I like about it, its also meeting other people, learning good techniques and training programs, their stories of their adventures. I'm now trying to learn dyno moves but I think I should make my legs stronger first. can you share youre training program?

• United States
16 Feb 07
I am taking a rock climbing class right now - it's so much fun and good excercise - but my muscles hurt the day after class! We climb on an indoor rock wall, and different routes are marked out so you can challenge yourself. I really like that I can see improvement after just a few climbs. Also, the teacher and people in my class are very supportive, which is great.