Rodeo - Heeha!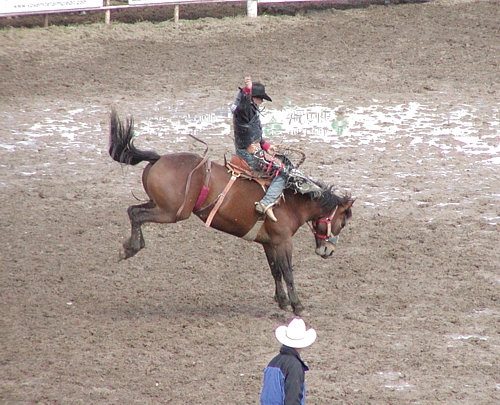 South Africa
6 responses

• United States
5 Mar 07
Hi Miranda,We often go to rodeos but don't take part.We do gymkhana events though.They are fun.They are timed games on horseback.My daughter loves the barrels,that's when you have 3 barrels you have to go around in a cloverleaf pattern.The horse/rider combo that takes the least time wins.It is great fun.

• United States
16 Apr 07
I rodeo and I love it. I have been doing it since I was 3 and it is so much fun. It's my relief and the way I relax.



• Portugal
4 Apr 07
In Portugal there are no rodeo, but they do bull fighting and it's the cruelest thing they can do to animals. I don't think that rodeos are that cruel, and sometimes people get real hurt. Thats the price you get for playing with an wild animal.

• United States
5 Mar 07
I attend rodeos when possible and I also have an APHA gelding that I compete in Barrels and Poles on in the National Barrel Horse Association events. I also compete in local Play-days which usually include barrels, poles, speed rounds, and other speed events. I am sorry to hear that rodeos are not allowed in your country. They are a lot of fun!