Do you feed birds?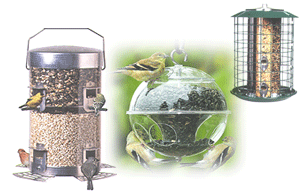 United States
January 19, 2007 9:16am CST
Do you hang a bird feeder and feed birds in winter? or summer?My sister even goes as far as putting up a heated birdbath
4 responses

• United States
19 Jan 07
Now Ive heard it all. I feed the birds mostly everyday especially in the winter months. But a heated birdbath? And how in the hell do you heat it? That is too funny.

• United States
19 Jan 07
Thanks for your response My sister does not get out much and watching the birds is her pleasure The bird bath bowl has coils in and the base is plugged into electric Keeps ice from forming bowl She lives in snow belt I guess it is funny but not to her

• Denmark
19 Jan 07
I live in an apartment, so no I don't :-) I probably would if I had a garden

• India
19 Jan 07
I am not use feed birds ...I use to feed for fishes. I love fishes. At some time i use to feed birds