Can't teach an old dog, new tricks..When your dog misbehaves!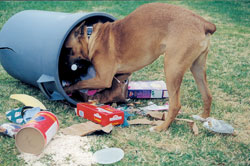 United States
January 19, 2007 1:17pm CST
They say you can't teach an old dog new tricks but I was hoping for some advice on a problem I have with my dog.. She's now 7 and has the bad habit of getting into the trash whenever she can.. I have a small trash barrel in the kitchen and put it up on the counter when I leave the house or go to bed but there are times I am running out and forget..Or other times I may be busy in another room and not hear her getting into it! She also gets into the bathroom waste buckets as well!!I scold her "Bad girl!!" and put her in the bathroom for about 15 minutes alone as a punishment but frankly this does nothing to persuade her from getting into it the next time she can... It's such a pain when I come home and see trash all over the carpet ( she will drag stuff EVERYWHERE) Like I said, my prevention now is to keep the trash up high but is there a way I can get her to go along with my rules instead of this???
4 responses

• Melbourne, Florida
19 Jan 07
Try spraying the trash with ammonia. I have never tried this, but have heard that it keeps dogs out of the trash. I have also heard of sprinkling black pepper all over it. Or maybe a dog buscuit soaked in tobasco sauce.

• United States
26 Jan 07
I too am wondering if it is possible to teach an old dog a new trick. My dog just constantly barks and barks and barks. No idea how to make the dog stop barking, I bring it inside, it barks to go outside. I bring it outside, it barks to come inside. I too have heard the black pepper idea, never tried it though.

• United States
20 Jan 07
I think your best bet is to simply keep the trash out of her reach, as you have been doing. Dogs enjoy the smells and taste of items in the trash, even though we find them disgusting. Because of this, every time he gets into the trash, he is getting positive reenforcement for doing so in the form of a tasty treat (yuck!). We bought a trash can for the kitchen that has a lid. In the bathrooms, we keep the trash in the cupboard under the sink.

• United States
1 Feb 07
Call Caesar Millan, the Dog Whisperer!!! ;-) Just kidding. Maybe you should find a HUGE bone that is large enough and tasty enough to keep her occupied while you are out, or kennel train her. Put her in the kennel when you leave for a few weeks, then let her roam free again... everytime you come home to a mess, stick her back in the kennel next time you're out. That would take some patience. If the can is small enough and not a hassle, I'd just keep doin' what yer doin'!