Bad 1 year old boy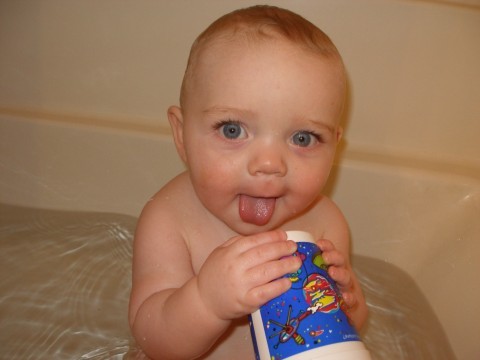 United States
January 19, 2007 5:16pm CST
My 18 month old son is getting really bad. He hits us, his susters, He screams. He spits.. He is just flat out mean. I dont know how to stop this behavior. I correct him right away, and I use time out. I know he doesnt completely understand these things. But maybe someone has had some postive results from something. He has 6 and 9 year old sisters. They were both never this mean. Everyone told me having a boy would be wayyyy different then the girls, but wow, I didnt think it would be that different.
3 responses

• United States
20 Jan 07
Ah he is mean because he is like an only child. the other children are so much older and he is getting all the attention. He is also the only boy. I had a son and he was hard to handle as a baby, toddler, and young child. He grew up to be so sweet and thoughtful. Boys are different and when they are the only boy and the baby they will be different than children with siblings closer in age. I was the baby and the only girl and I was a brat! He probably needs to be around children his own age so he will learn how to share and how to act. He is so young right now and I am sure he is testing the waters to see what he can and cannot do. It is better to discipline him now so he will learn. Time out is good, but he may not understand it very well at this age. Take up a lot of fun time with him and try to be patient and understanding. I went through the hitting and spitting and thought I would become an abusine parent before it was over. I never hit my son when he hit but I did grab his hand and scold him to tears. Now spitting was a different story, I did pop his mouth, but not to hurt him just enough to scare him. He finally stopped when he got older. Good Luck!

• United States
20 Jan 07
Yes he is The only boy and like you said, hes the baby.. I thought he was just testing the waters.. lol.. Thanks... I do hot lightly in the mouth when he spits. Just so much different then my girls were. I was thinking of joining a baby and me, or mommy and me group with him. Like you said he doesnt play with any kids his age, so he doesnt know. He is the only baby in the whole family to. My kids are the only grandkids on my husbands side, and on my side there are a few more but there all in their teens except my kids. SO he is the baby all the way around. lol. Thanks for the info, and sharing you have been throught it.,At least I know there is light at the end of the tunnel!! lol

• United Kingdom
19 Jan 07
No certainly not this bad what you might try is Put him in his room in his cot till he has calmed down but stay close by so he doesn't harm himself Have you spoken to you r Doctor about this? It might be a good Idea as there could be something wrong to Normally this kind of Behaviour needs to be looked into as it could be anything so take him to the Doctor if you haven't already and get him checked out

• United States
20 Jan 07
Humm, never thought about that. Maybe I will check into that. I was thining it was just the toddler stage, and he has grandparents who think its cute.. SO they laughed. And his sisters laugh. Im always yelling at everyone to stop laughing, but now I think the damage has been done. lol

• China
19 Feb 07
i have a baby eight month.baby always like that especilly boys. now i wish he could grow fast.call me daddy and noise me.but now he is very little.i think your son is very cute.

• United States
21 Feb 07
Thanks. They grow up fast. Dont wish for it.