Have you been in the most beautiful place in the philippines?

Philippines
January 20, 2007 6:28pm CST
Hello guys! Is there anyone been in philippines?
8 responses

• Philippines
21 Jan 07
i've been to puerto galera but that was a long time ago. also been to albay and see the mt. mayon before it erupted and lost its perfect cone shape.

• Philippines
21 Jan 07
I have been to Boracay, Siquijor and Tagaytay if it means the famous tourist spots found in the Philippines.Im planning to go to Bohol this summer.

• Philippines
22 Jan 07
ill be including palawan as my next destination this summer hey can you give me a view places and resorts there but not that expensive huh...ill be needing your help when i go there can i count on you


• Philippines
22 Jan 07
2 thums up.....tagaytay is a good place to be... i live there and im proud of my city you found peace in our place.....the climate is the best.....and the scenic view how about having a coffee by the taal lake view...isnt it a perfect scenery for mornin breakfast and dinner

• Philippines
30 Jan 07
Mind if I ask if you're from the Philippines? I'm from the Philippines but I live in Manila. I've never been to Boracay or Palawan. Farthest I've been to is Cebu. I plan to visit more beaches this year!

• Philippines
26 Jan 07
I am from Iloilo City Philippines. I have heard a lot of El Nido Palawan. They say it was a very nice place to visit. My grandmother even loves to go there. I had only seen El Nido in images and they say it's really like your in paradise if you go to such place. Wish I could visit there someday. Aside from EL Nido what other things Palawan is famous of?.

• Philippines
26 Jan 07
Probably the most beautiful and memorable place I have visited in the Philippines was the Boracay Island. We went there for the first time with my wife for our honeymoon. I know Palawan is a good place to visit so I hope we could go there for our second honeymoon. I'll let you know if we'll go there and perhaps seek your assistance in getting around. :)

• Philippines
22 Jan 07
im not just visited the palce i lived ion the most beautiful place for me its the graden city of the south its tagayatay city.... im thinking or planning to visit palawan this ummer can you be my tour guide it will be nice specially now we dont know anyone there... it willbe a great help if you can help us find a lot of great place there

• Philippines
22 Jan 07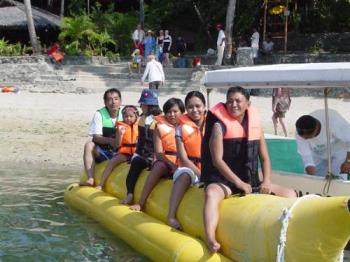 I am from the Philippines. Grew up and lived for over twenty years in the province of Cavite. My favorite places in the Philippines are my father's and my own home province, Cavite; my mother's home province, Cebu; and Davao City. I would love to visit Palawan someday. Maybe this year.