Are you all ready to accept a new only one religion- only one god in the world!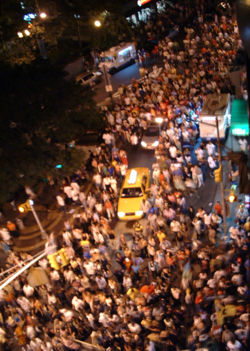 India
January 20, 2007 9:06pm CST
We all say the aim and goal of each and every religion is to keep the peace of mind and thus peace in the world. But if we see the current situation, there are lot of clashes in the name of religion, god. Are you all ready to accept a new only one religion,that includes all the basics of every religion in the world?.
9 responses

• Brazil
1 Feb 07
Sorry can't accept a one world only religion and god in the world. Unless we accept the Flying Spaghetti Monster. Really sad , but I can't. But wait if it is a goddess, Aphrodite, if we have to accept Aphrodite then, and only then you can count me on. Ah, Aphrodite, ah.

• United States
1 Feb 07
Lol..I don't think ANYBODY'D be able to say no to accepting Aphrodite.


• Murfreesboro, Tennessee
21 Jan 07
Nope. I'm not ready for it. While I am perfectly happy to admit that gods of other people's religions exist, I will never say that my gods and goddesses are only a part of them. So I won't ever be ready for it. I am a part of a religious organization that lets it's members each walk their own spiritual path, while supporting each other along the way. And I'm a pagan with a Christian husband, so I'm pretty peaceful with other religious ideas. That's as far as I can go. Sorry.

• Canada
21 Jan 07
If that were the case, then you'd be talking about a new religion which would mean all of the other religions are not true. Then we'd all be hypocrites. I believe in God and Jesus Christ, not Buddah and the other gods from other religions, therefore no I guess I'm not ready to accept and new only one religion as I have my own religion I believe in.

• Philippines
1 Feb 07
I just think that what we need is tolerance among different beliefs of other people. If we have that then all these clashes and differences will not matter anymore. What is important is that we all believe in a Supreme Being that we call GOD.

• United States
1 Feb 07
Rur? Um..I'd rather not follow somethin' someone just invents. Granted, we've no proof that someone didn't just invent any of the other religions in the world either..but we've each to decide for ourselves..what is the 'right' one for us. Frankly, I don't start a whole bunch of conflicts in the name of my religion. Nor do many of the people from my religion that I've found so far. There are plenty of religions in the world that DON'T start fights in the names of their relgions..so why make people quit those when it's other folks which have the problems? I'm not naming names or religions, and more often than not it's individuals which cause problems instead of a whole religion or people.

• Philippines
1 Feb 07
There can never be only one religion. The goal of the Christian religion is salvation. God wants men to be with Him and so He created man but man corrupted and sin separates man from God. God wants to take man back to Him and so He sent His only begotten Son to take away the sin of the world. The way to salvation is in the New Testament. People who want to be with God in heaven forever must follow the Word of God. Those who disobey God will be thrown into hell. I will never accept other religions. I am a Christian and I follow the Christian religion.