was hanging of saddam hussein was justifiable? what do you think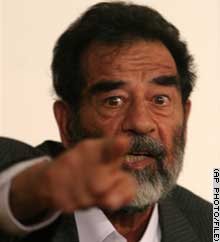 India
4 responses

• United States
25 Jan 07
No I don't think saddam hussein should have been hung. He was found guilty of his crimes so he should have been punished. I think taking a life is wrong for any reason. I think he should have been given a life sentence with no contact with others. I believe our lives should not taken as a punishmet, no matter what the crime. As for Bush..well he will have to deal with his maker, just as Hussein has now had to.

• India
25 Jan 07
o yea, mari. bush is most definitely not going to go scottfree. may the reaper come for him nice and swift.

• Canada
25 Jan 07
I don`t think they had the right , but laws are different there I do think he should have spent the rest of his days suffering in prison with only bread and water like those he hurt never seeing his family and such you know what I mean

• India
25 Jan 07
yes i can understand that but killing him brutally in this way was not acceptable you are right but still he would have only sentenced for life

• India
21 Jan 07
hanging saddam was injustifiable. no one had a right to hang him. he did nothing. absolutely nothing. the reasons he gave even during his trial were very valid points raised. and nobody had any business hanging him. and finally, what he had done (if he'd done anything at all) is now nothing in comparison to what bush has already accomplished. now, will someone please hang that thug named bush.

• India
22 Jan 07
absolutely i agree with u buddy thats right ....100% correct there is no one to hang bush for his evil deeds

• India
25 Jan 07
thank you. i was quite ticked when the verdict came out. it's good that people share my sentiments.

• United States
1 Feb 07
I was raised in Texas US and have always felt that if someone does horrible things like mass murder that you should execute them. I feel the hanging was justifiable, they should have not taunted him and they should have allowed him to have his imman?? there and prayer should have been allowed as well.