What do you like to have cheese with?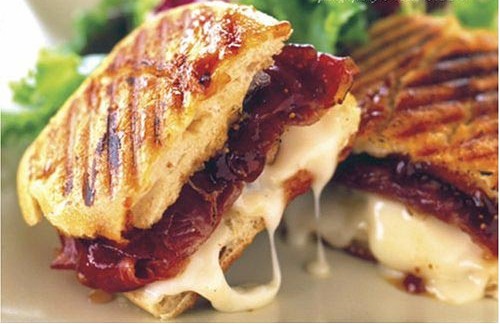 Canada
10 responses

• United States
22 Jan 07
Bee's Cheesy Pita Folds Fry some Steak-Umms or other chopped beef flat sandwich steaks and add onions, garlic and oregano, salt and pepper. Cook until browned on both sides. On a plate with paper towels on it, put meat from pan onto paper towels to drain fat off. In a microwave plate, put one large round pita (or flat) bread, add cooked meat eveningly on top and sprinkle any grated real cheese (mozzarella, provolone, cheddar, etc., on top of the meat. Microwave 40 seconds until cheese melts all the way. Sprinkle grated parmasan cheese, add salsa and/or hot sauce and fold pita over and eat away!

• Canada
23 Jan 07
Sounds like a plate full...Also sounds filling. thanks for the post.

• United States
9 Feb 07
I eat cheese with everything. LOL my hubby calls me a rat. I like cheese and scrambled eggs. I put extra cheese on everything!

• Canada
14 Feb 07
thats the problem cheese is to good.

•
9 Feb 07
**Cauliflower Cheese** ------------------------------------ You Will Need: ------------------ 110g (4oz) Cheddar Cheese, I have found the stronger the cheese the better the taste. 3 tbsp Plain Flour 50g (2oz) Butter 25g (1oz) Fresh Breadcrumbs ½ tsp Mustard (English is best) Nutmeg Sea Salt & Black Pepper Method ---------- Cut up the cauliflower and boil in lightly salted water for 10 to 15 minutes or under as tend as you prefer, I actually like mine with a little crisp still left init.. Drain cauliflower and place in a heatproof dish. Add the stated amounts of milk, flour and butter into a saucepan. Turn up the heat, stirring continuously until the sauce thickens, boils and is smooth. Allow simmering for a further 2 minutes. Add three-quarters of the grated cheese, mustard, a pinch of nutmeg and seasoning. Cook for further minute stirring well. Pour the sauce over the cauliflower. Mix the remaining cheese and breadcrumbs together, sprinkle over the top. Place under a hot grill until golden brown. Serve immediately And there you have it tasty Cauliflower Cheese!


• Canada
14 Feb 07
i don't eat hamburgers but I would say yes to cheese on them.

•
4 Feb 07
I like cream cheese on toast. I also like dipping nachos into cream cheese and really cheesy pizzas!


• Canada
24 Jan 07
A true tradition thanks for the post

• Sweden
22 Jan 07
i don't run out of cheese at home. i love it. i love my cheese over my home made pizza, spaghetti, lasagna, and omelettes. i love cheese sandwich, too. plus i want some cheese as well on my hamburger and hotdog sandwich.

• Canada
23 Jan 07
Hmmm sounds like a cheesy household.....it is good to see a healthy obsession with cheese. thanks for the post


• Canada
22 Jan 07
vegemite? please explain...thanks for the post.

• United States
15 Feb 07
I use the high fiber Thomas muffins, a little olive oil, slice up some mozzarells cheese, some garlic salt and throw it under the broiler. Favorite breakfast of mine

• Canada
24 Feb 07
Sound filling and rib sticking, must not need to eat for a while after that.