Should governments be banning trans fats?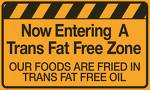 Canada
January 22, 2007 8:40am CST
This is happening in a lot of cities around the world. Cities are banning trans fats in all restaurants. We all know they're bad for us, but, there's lots of things that are bad. If the governments that were banning trans fats had the balls to ban tobacco, we'd be a lot better off.
2 responses

• Canada
18 Oct 07
I am all for banning transfat except when it occurs naturally in natural products. I have eaten products containing transfats since I was in grade school. Look at my picture. Do you think I would have been so large unless I had transfat in my food? Transfats shorten your life, clogs your arteries. Do you know that when we went to get travel insurance for our trip, they asked us if we had any problems, diabetes, heart condition, sicknesses, any chronic conditions and they were surprised when we said, "no," they could not believe it. It was so fantastic to have someone in their sixties who lived in Canada most of their lives and in my husband's case, all his life with no chronic conditions? That is because people in their sixties as we were, should have had something serious wrong with us and that is because all through our lives or most of our lives a lot of the products, baked goods, shortening,etc. had trans fat and the only reason we were healthy was because since transfat had been shown on the packages, we have been eating more salads, veggies and fruits. So I am all for banning transfat. Not everyone smokes and drinks, but everyone eats.

• United States
22 Jan 07
i agree with you, but the problem is with these fats that they are available for everybody even infants who just starting to eat solids. i see it all the time that little babies who can't even talk eat fries. i don't think this is healthy and it will efect them when they get older.....diabetes, high blood pressure, over weight...etc. i don't mind them banding trans fat, but like you said they should baned other things too. ciao vicky