Time Outs - Why or Why don't they work?

United States
7 responses

• Canada
9 Feb 07
i think time outs are effective. that's how i discipline my daughter. after about a week of using the time outs she know knows that when i start getting angry with her she runds to her time out spot or if she does something wrong before i even say anything she goes there. it's also become a spot for her to calm down on her own. is she gets angry about somothing and she feels a fit comming on she'll go sit there on her own to calm down. so i think it works.

• United States
24 Jan 07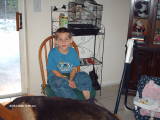 I do think time-outs can be affective. I think you need to wait until the child is at least 2, and then you need to make sure they knew what they were doing is wrong. We do one minute per a year the child is, and I think that works well. We have the same spot he has to sit, on the floor, across from the timer, I set the timer, tell him i'll be back when it goes off, and I leave the room. My two year old HATES it. HE would prob. rather be spanked than have a time out. He is a very active little boy, and having to sit there for two minutes is hard on him. I think it depends on the child though, I can imagine it doesn't work for some children.

• Canada
24 Jan 07
I think time outs work much more effectively on younger children. I babysat out of my home for many years and I've found this to be one of the best things to use to discipline the kids. They hate to be separated from everyone else and made to stand in a corner or play by themselves. Usually I put them in the corner (1 minute for every year they are). I have to say though, last week I posted a discussion about my children arguing all the time. Someone was kind enough to point out that their mother would make them sit together and put their hands together for the amount of time their ages added up to. I did this yesterday with my kids. HAHA It worked like a charm. For the rest of the day when I would say "do I hear arguing?" the immediate answer was no, LOL. This is going to be my new form of discipline. I absolutely LOVE this method.

• United States
24 Jan 07
LOL My husband is known for making my children hold hands when they keep fighting. If they argue and won't stop, we say do you want to hold hands? NO! Of course they don't want to hold hands at someone they are mad at. ha ha When my older children were young and would fight because they couldn't keep their hands to theirselves in the van, I had a different version. If I heard the arguement that so and so is touching me or whatever and the other one kept denying it, yet the arguement continued, they learned what my response would be. I would tell them I couldn't drive safe and look at them,and they didn't seem to know how to control their hands, so they had to put their hands way up in the air so I could see them in the rearview mirror. They felt silly going down the road with their hands raised up over their heads, especially if we were at a stoplight and someone in the car next to us started looking at them.Now mind you, I only made them hold their hands up for about a minute, but that was enough. I usually got a quick, "I'm sorry.We'll keep our hands to ourself." You know, my oldest daughter has 4 children and I've heard her use the "I'll make you put your hands up where I can see them" to divert arguements. She has told me that she remembers having to do that a couple of times and she said she felt like a goofball. She said she learned my point quickly that's why she quit fighting in the van.

• Canada
24 Jan 07
I think time out's are effective but I genereally prefer the counting method , where you give your child a choice of doing something by the count of three or losing something only because it gives them the option . I feel in life we are always given an option and feel that even at a young age a child should be given the same option . By the count of three if the behaviour hasn't stopped that I asked to stop then they will either be put in time out or lose a priviledge that started the dispute in the first place such as fighting over the television .

• United States
24 Jan 07
I think time outs work well. I was told to do this by our family dr when my daughter was little. You put them in time out for the same amount of minutes as their age ex: 5 years old - 5 minutes. The only other method I use is grounding her from things that she loves, like tv, or outside play, or something thats gonna make her want to behave because she knows if not, she wont be able to do it for a couple of days.

• United States
25 Jan 07
I have given my teenager son a time out when he was palying with a friend and they started to getagatited with each other. I made him sit for 5 minutes to cool off. Not being able toplay the video game with his friend was a harsh punishment to him, but they played very well the rest of the afternoon.


• United States
24 Jan 07
I think time outs work to an extent and certainly only up to a certain age but just giving a child a time out (or any form of punishment for that matter) with no explaination as to why, why that behaviour will not be tolerated and what will happen as punishment should it continue is pointless IMO..but I think time outs only work for the younger kids and you cant just tell them to time out in their rooms either unless you plan on taking all their toys away at the same time...but time out in the corner is asking for trouble IMO especially since many parent I knew that did that would ask ridiculous amounts of time for the kid to be standing there which lets face it really isnt right or fair, it wasnt somethign I was big on though....a swift smack on the bottom and a stern talking to on the other hand worked well..