Snow in Arizona

United States
January 23, 2007 11:41pm CST
A person would expect snow at the Grand Canyon. As a matter of fact, the first time that I was going to take a trip to visit the Grand Canyon, it was in April and the road to get there was closed because of snow. I happen to live in the Sun Country of Arizona. That is the basin, or valley of the Phoenix Metro area. This area starts getting hot by the end of April, and it's not uncommon to go over 100 degrees by May. It's a nice dry heat and usually we have a gentle breeze, but most folks just go somewhere else from May through August because the heat is too much. Summer or winter, the temperature drops 20 - 30 degrees every evening because it's a desert. The most amazing weather is occurring here this winter. We usually have a mild winter. However, this year, it has now snowed twice. And, to top it off, my brother in Connecticut had warmer weather at the beginning of January than we were having here in the desert! I'm sure this has to do with global warming. Imagine if each person in the USA did one thing to help save the world's environment? We could go a long way towards setting the world straight. If you were to do one thing to help stop the global warming, what would it be?
4 responses

• United States
27 Jan 07
The weather has been unordinary in lots of places. I have a cousin living in Safford. I am still not blaming global warming for everything. It could El Nino or even natural weather phases that we as of yet don't understand. As far as helping, I am driving a lot less than I have before. I prefer temps between 50-80.

• United States
28 Jan 07
Hey - good on you for driving less. I think that every bit helps the environment, global warming, El Nino or whatever.

• United States
21 Feb 07
I've lived here in the Phoenix area since April of 1965, with only about 8 months' respite in the Detroit area years ago. It is just too hot here. I too prefer that summer temps would be in the 80s. My DH (who grew up in MN) really loves it here though. The unspoiled desert does have a sere beauty, and there's nothing like the smell of the desert after a rain. Get ready though, desert dwellers...a friend of mine told me that the last time it was in the 20s for several days during the "winter" here was in 1989, and it was followed by the hideous 122-degree day we had in 1990. I'll never forget enduring that day, driving home in a black Monza with no air conditioning and no radio. No wonder I'm so sick of the heat ;o). Insofar as global warming is concerned, folks can only do so much, such as carpooling as others have mentioned. In my mind, it's up to Industry and Government to support/invest in alternative fuels. In my humble opinion, we cannot expect that to happen here in the US until after the current administration has departed. The current administration is so rooted in the petroleum industry that they have no incentive to invest in other energy types. That said, I have to hope that they have spotted the money to be made in alternative fuel sources in the future, so the time may eventually come when they will direct their financial resources accordingly. But, I just don't think it will happen any time soon. Congratulations to the folks who have tried to make a difference! Every little bit helps huh!

• United States
27 Feb 07
yeah, you're right, evry litle bit helps. I guess we see whats in store for us this coming summer! Last summer started super early and waited till Oct to end. I don't think I'd mind the severe hot days of 122 if we didn't have the super long summer on top of it!


• United States
24 Jan 07
I'll admit, I'm not sure what I'd do to reduce/stop global warming. My wife and I do carpool to work, although with me being blind, driving myself isn't an option for me anyway. :) I'll admit, I was surprised to hear the Phoenix area was getting snow...I lived there for thirteen years from 1986 to the end of 1999, and I think I saw snow in Phoenix/Scottsdale a total of two times; once in 1990 right before Christmas, and right before Christmas of 1998. I still have lots of family down there and we visit generally in the fall or winter, never in the summer if we can avoid it. :) How much snow did yu guys get? Enough to create treacherous driving conditions?

• United States
24 Jan 07
I moved to Az in 2000, missing the previous snow falls. The snow that we recently got melted shortly after it fell. However, for two days we had ice warnings because the temperatures dropped below freezing at night, so - yes, the driving was treacherous. I understand about not visiting here in the summer! :)

• Canada
27 Mar 07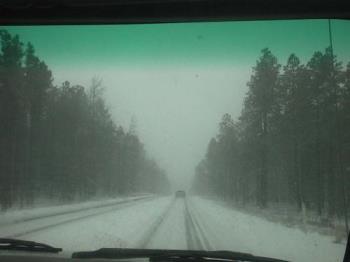 I'll have to think about what I'd do to help stave off global warming. As for snow in AZ, I was there in February (went to visit my Sweetheart in Sedona) and we had to go to Flagstaff a few times. It REALLY SNOWED up there. We even got A BIT of snow in Sedona. I'll attach a picture of the snow in Flagstaff.