Problem regarding weed addiction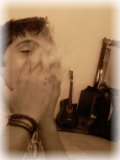 January 24, 2007 1:05am CST
Im totally addicted with weed, and I do want to quit it but I couldn't manage enough to quit it. I need you'r help in this regard, apart from this Im smokin` weed since 4 years, my lungs are getting damage day by day but Im highly addicted with weed and don't know how to quit it. HELP!
5 responses

• Philippines
25 Feb 07
too much of something is bad enough, too much of nothing is just as tough.

• South Africa
24 Jan 07
I think that you should seek professional help, perhaps a councillor, or a group near you. I think that you are suffering from a psychological dependency, since weed is not normally physically habit forming. Good luck!

• United States
24 Jan 07
Well, if you're over eighteen there are some legal smoking herbs that help to ween you off of it. I know people who have a lot of success with those. Other than that... well, the effects are all psychological. You're addicted to the way weed makes you feel, rather than any chemical in the weed. So therapy can sometimes help.

• Philippines
26 Apr 08
I believe that staying away from things that are not helpful to us would greatly depend on our determination and focus on really striving to stay away from it. I believe that you just need to focus on what you want - if you want to help yourself and not to just destroy your lungs and live more - then look at it as a goal which you would like to achieve. Also, try diverting your attention to other things, so that when the urge to to that addiction is there - you can think of other things like going to the gym or anything. Life is too precious to be wasted by such addiction dude. God bless.

• Pakistan
26 Feb 07
Well try to consulate with any throat doctor first of all then ask to the same doctor that how will you leave weed he is the only one who will surely help you in this regard. I know you can quit it and you just need to concentrate on this thing and it will automatically happen that you are out of disease. Wish you very best of luck for your treatment and do tell me how was the treatment and how much are you succeed. Best of luck! And have a good day plus happy earnings!