Australian Damper Recipe - Do you have any recipes to share?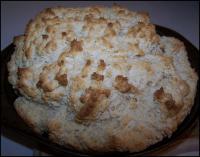 Australia
January 24, 2007 10:07am CST
Damper is bread made without any yeast. It was made by stockmen and bushrangers who were on the move all day and camped out in the Australian bush. They wanted bread to eat and didn't have time to wait for the yeast to rise. It is traditionally cooked in the coals of a campfire, but you can make one in an oven. 3 cups self raising flour generous pinch of salt 30g (1oz) butter 1.5 cups water or milk Preheat the oven to 200oC (400oF) Place flour and salt in a mixing bowl and mix. Rub the butter through the flour mixture with your fingers. Pour in the liquid little by little, mixing well between each addition. When well mixed, form the dough into a loaf shape and wrap in aluminium foil. Place in oven or on coals and cook for 35 mins. Damper should be golden brown in colour and sound hollow when you tap on it. Break the damper into chunks and spread with butter, jam, honey, vegemite etc. It tastes best when it's still warm! An alternative while camping is to take small handfuls of the dough and shape them into little balls around the end of a stick, then hold them over the coals to cook, just like toasting marshmallows. When the clumps are cooked slide them off the stick and drip butter or honey into the hole left by the stick. Be careful though They'll be very hot!
10 responses

• United States
25 Jan 07
I've never had this before, it sounds fun for camping. I may try it then adapt it for cooking at camp. Sounds like it would compliment a stew nicely. I'm getting hungry just thingking about it. Here is a biscuit recipe I use. Very simple and tastes great even without butter. EASY BISCUITS 1 c. self-rising flour 2 tbsp. (heaping) mayonnaise 1/2 c. milk Mix well, drop by teaspoons on greased pan. Bake at 450 degrees for 15 to 20 minutes. Makes 9 when dropped by tablespoons. I like to make these for dinners during the week because they are so quick and easy. Some times we make then in the evening just for a snack with honey or jam on them.

• Australia
25 Jan 07
Hey thanks for the recipe. I was looking at a discussion yesterday about putting mayo in a biscuit recipe and was planning on hunting one down to try. Your a champion. The damper wont do you any wrong at a camp, it'll go down sweet as, and it sure will work alone or with a stew. Its so quick, adaptable, basic, cheap to make and ever so easy, it'll be a recipe you'll know of by heart for life once you've made it.

• United States
24 Jan 07
INGREDIENTS: 20 lasagna noodles 2 tablespoons olive oil 1 cup chopped fresh mushrooms 1 chopped onion 1 tablespoon minced garlic 2 cups fresh spinach 3 cups ricotta cheese 2/3 cup grated Romano cheese 1 teaspoon salt 1 teaspoon dried oregano 1 teaspoon dried basil leaves 1/2 teaspoon ground black pepper 1 egg 3 cups mozzarella cheese, shredded 3 cups tomato pasta sauce, divided ------------------------------... DIRECTIONS: Preheat oven to 350 degrees F (175 degrees C). Bring a large pot of lightly salted water to a boil. Add lasagna noodles and cook for 8 to 10 minutes or until al dente; drain. In a skillet over medium-high heat, cook mushrooms, onions, and garlic in olive oil until onions are tender. Drain excess liquid and cool. Boil spinach for 5 minutes. Drain, then squeeze out excess liquid. Chop spinach. Combine ricotta, Romano, spinach, salt, oregano, basil, pepper, and egg in a bowl. Add cooled mushroom mixture. Beat with an electric mixer on low speed for 1 minute. Lay 5 lasagna noodles in bottom of a 9X13 inch baking dish. Spread 2 cups of the cheese/spinach mixture over noodles. Sprinkle 1 cup mozzarella and 1/3 cup parmesan on top. Spread 1 cup spaghetti sauce over cheese. Repeat layering 2 times. Cover dish with aluminum foil and bake in a preheated oven for 1 hour. Cool 15 minutes before serving.

• Australia
24 Jan 07
Wow thanks for the lasagne recipe, I love making them, especially with spinach mmm

• Australia
25 Jan 07
Cooee, Ruralchook. Some people used to use baking soda, to make the thing rise. My mother's version was a very light damper, like a bread scone. My version is quite different. I use wholemeal self raising flour, I'm lazy. To make a damper into a steak: About five tablespoons of amino acids. (Protein by the ton, doesn't affect taste.) Salt, of course. Roasted sunflower seeds, as many as you like, relative to the size of the damper. Bee pollen. More protein. Real corn meal, not polenta. About 1/4 the volume of the flour. Damper should lift easily, and not be sticky, when ready to cook. Cooks better when flattened out a bit, can me made into shapes quite easily. Oven about 250, cook and turn until outside is golden brown and crisp. Serve hot with a good, trustworthy cheese, super fresh salad and a decent mayo that isn't too sweet. Then sit around feeling very pleased with yourself.

• Australia
25 Jan 07
G'day and cheers for your version, its certainly different, Im gonna try this one. have you ever put cooked pumpkin into your damper?

• France
25 Jan 07
I won't be the same as Australian dampers, but we used to make what we called dampers as kids when camping by mixing flour and water and kneading it well, then winding ribbons of this round a stick and toasting it like marshmallows over the campfire. When you took the dough off you had a hollow spiral twist of bread, and you could stuff cheese or jam down the middle. It was delicious, but not very sophisticated.

• Australia
25 Jan 07
Oh your wrong there. What you've described is just the same as a Damper. If you look right into the history of Aussie Damper you'll find many instructions for making it this way. I made it this way while travelling around Australia years ago and had nothing other than flour, water and salt to make the damper.



• Australia
25 Jan 07
You can also use treacle or honey as a topping. Before wrapping the foil, you can add some cheese and bacon topping for something different.


• Australia
25 Jan 07
Oh certainly. A couple of minutes to mix in the one bowl or straight onto a table top, then 15 odd minutes in the oven....then yummo

• Indonesia
25 Jan 07
Australian Damper Bread ========================== 1 (.25-ounce) package active dry yeast 1/4 cup warm water (about 110'F / 45'C) 1 cup milk, scalded and cooled to about 110'F / 45'C 3 cups all-purpose flour, plus more as neede 1 rablespoon baking powder 3/4 teaspoon salt 2 tablespoon butter or margarine Preparation: 1. In a small bowl, combine yeast and warm water; let stand until yeast is softened, about 5 minutes. Stir in milk; set aside to proof. 2. In a large bowl, mix 3 cups flour, baking powder ans salt, with a pastry blender or 2 knives, cut in butter until mixture resembles fine crumbs(or rub butter into flour mixtuer with your finger). Add yeast mixture and stir until dough is evenly moistened. 3. Turn dough onto a lightly floured surface and knead until smooth, about 10 minutes, adding more flour as needed to prevent sticking. 4. Shape dough into around, lumpy loaf 5 to 6 inches in diameter. Dust lightly with flour, then place in a greased 8 inches round cake pan. With a very sharp knife, cut an "x" about 1/2 inch deep and 3 inch long in center of loaf. 5. Bake on lowest rack of a375'F (190'C) oven for about 55 minutes or until well-browned. Turn out onto a wire rack and let cool briefly. Serve warm. Makes 1 loaf or about 10 servings. Happy cooking!!!!!!!!!

• Australia
25 Jan 07
I prefer not to use yeast in my damper, it makes it realy turns it more into a bread. But I do use a similar recipe to this in my bakers oven when Im in a rush and can set the timer to do the baking for me.

• Philippines
25 Jan 07
i just heard about that recipe and i would love to try it.. it sounds easy to do and looks yummy.. i think it sperfect for my peanut butter and jelly. yum! thnaks for informing

• Australia
25 Jan 07
It really is as easy as making a simple dough that you'd make for the kids to play with. And its just as easy to cook, roll it in a ball shape, through it on a greased oven tray, bake for approx 15 minutes. I love it served straight from the old nice and steaming hot, the old fashioned way with butter and golden syrup or treacle mmmm I have had it with peanut and jam too, its makes it turns it into something different. You could also try it with jam and cream like you would with scone's

• Australia
27 Mar 07
Hi. I started a national recipe discussion and then found this one. I put up a recipe of a damper. I must admit I have only tried cooking it in the oven though as I don't like the black crunchy bits when it is cooked in the coals haha. Have a look at my discussion if you like. http://www.mylot.com/w/discussions/925817.aspx?p=0