Paris, excuse my french

Philippines
January 24, 2007 11:40am CST
I hope to go to Paris one day. It would be like living my dream. They say its beautiful. It is where beauty is manufactured and advertised. But I do not know how to speak french, i don't know if I could survive it there without knowing their language. waaaaaaahhhh! I hope to go to Paris one day. But how?
3 responses

• Philippines
25 Jan 07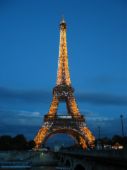 hi there, mi ami! our teacher in business english just this semester taught us a little french, but sad to say, i can't remember those.. i also do like going there.. i want to experience paris! they say that the romantic people lives in there.. so i want to go there and find out!lol! check this site out: http://humanities.uchicago.edu/orgs/ARTFL/forms_unrest/FR-ENG.html

• Romania
24 Jan 07
well i have almost the same dream as u do. i went to paris and it worth every second i spend there and even more. only thing i wish for now is to go back there, and maybe one day buy a place there. it is just like we see it at tv and even better. the feeling u get walking near senna is unique.

• United States
25 Jan 07
Not sure it's required but it sure would make it more fun.lol