India win by 20 runs, lead series 2-0..............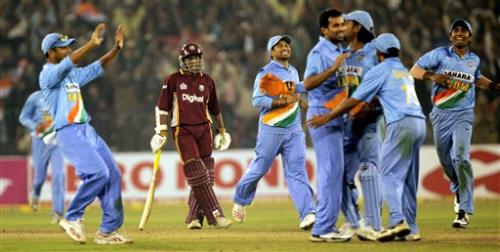 India
10 responses

• India
26 Jan 07
well yes all the matches in th current series is very tight and that shows that WI is slightly behind us in this seriesa and also we have nithig to be very hapy. the conditions are not what we will get in west indies and also i think they give a dm abt that. they just cam ehere for the money the board will get from them.

• India
27 Jan 07
may be but will the win against them for india will boost the confidence of the team before going to world cup?

• India
26 Jan 07
i think the indian bowlers had done a great job in defending such a small total the credits goes to the bowlers they had done such a nice job with this the indian team will be boasted with a lot of confidence and with the inclusion of yuraj sing int the team the middle order will be very strong and the batting lineup will be very strong for the third odi

• India
26 Jan 07
yes the bowlers had a bad time for long as the pitches and field restriction rules favour batsman today,,,,,, we say some great perfomance in bowling by indians and i think our indian bowling attack is improving which is very much needed for our team, what are your comments..........

• India
25 Jan 07
i think its rather a good performance by the indian team in home soil they r undefeatable at home i think it was a one sided because of the absense of brian lara

• India
26 Jan 07
how can you say it was a one sided match, it could have gone either way as still chandrapaul was batting, its some good bowling by powar and sachin that we were able to win the match, comment on this

• India
25 Jan 07
West Indies is a good team when poeple like Gayle, Chandrapual, Sarwan and Lara fires, If they fail then they did not even chase 160 also, they have proven in the DLF cup also how poor chasers they are. If any one of the above players fires then they can be compatible with any team

• India
25 Jan 07
yes i think inida should learn form these matches, they are finishing very close and the match would have gone any way,,,,, i think india has to prepare a lot for the world cup, comment on this pls

• India
25 Jan 07
yes. it a super match to c

• India
25 Jan 07
fine, i hope you enjoyed the match, it was entertaining ........ the match was evenly balanced and finally india got through..... can you tell me which was the turning point according to you, your reply will be waited, thank you

• India
25 Jan 07
It is always good to have a win,but you cant expect victory from such tight situations all the time.Eventhough it was a low scoring match,the performance of the Indian top-order was really disappointing.Full credit to the bowlers and Dinesh Karthik for the Indian victory...

• India
26 Jan 07
well credit has to be given for the bowlers as they get very little chance to perform on such a pitch, nowadays pitches are made batsman friendly and bowlers have to suffer a lot, and not to mention the power play,,,,,, well i too have lot of praise for the bowler powar and sachin and i hope india perfom much better in the future matches, i shall wait for your comment, do reply back, we shall a good long discussion regarding this, thank you

• India
25 Jan 07
india is playing good.yestrday's match was super. i felt india would lose & with that thought i felt sad & could not read for the xam.now i'll get very less in my xamz.........................................

• India
25 Jan 07
hey dont do that, your exams are more important for you than cricket, even though you won yesterday it did not help you but it ruined your exam preprations, so concentrate on exams and see matches just for fun


• India
25 Jan 07
yes certainly i would feel so, but the way they are playing in the indian soil it makes me feel hard and i think they need to improve in all of the aspects, other wise forget the world cup, eagerly waiting for your reply, thank you

• United States
24 Jan 07
well again a close match...so indians have to be careful especially with chaderpaul as he has always done well against india...by the way indians have always done well in india. got to play better abroad to win world cup..let's see

• India
25 Jan 07
yes right indians are to be very carefull and if they play in a similar fashion i think would cup is still very far for us.....

• United States
30 Jan 07
Well, that is so good for them. I hope that they will win all the way and get that cup they are going after.