Do you believe in ghosts or huntings?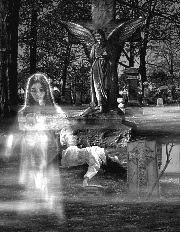 Canada
January 24, 2007 2:21pm CST
Do you believe in ghosts?Have you ever had an experience with a ghost or a haunting?I love the mystery of hauntings.My bestfrien and I sometimes drive around the city to places we have looked up online and have a history of hauntings.Have you ever lived in a house that was haunted or knew someone that did?Do you have any stories that you want to share?I personally believe in spirits staying behind and 'haunting' a location.But i dont think its to scare people.I think spirits stay behind because they are traped and have unfinished business.Sometimes they express their presents as a way of ask for help to be relesed.
3 responses

• United States
24 Jan 07
i believe that ghost exist

• United States
24 Jan 07
Yes i do believe in ghosts and hauntings. I believe i was being haunted for a very long time as a child and on up in my young adult life. I moved from this home and it all stopped. I have not been visited but once since i moved. In my experiences i would see a lady standing over me or i would hear her walking and sometimes i could feel her touch me. I have no idea what she wanted but i was always affraid of her.

• Indonesia
27 Jan 07
have you ever meet them? is your ghost haunting bring you new visual experiences?