Leopard Bush Fish aka Leaf Fish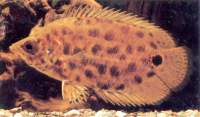 United States
January 24, 2007 3:36pm CST
Ergh. On of out two Leopard Bush fish ate another fish today. When we got them a few months ago the girl at Petsmart said they would only get to a certian size and onyl eat fish a certian size. Well, she was wrong about that and the fish are mislabled - they aren't leaf fish but Leopard Bush Fish. Our Leopard Bush fish are slightly bigger than the normal adult size (3 inches) is and they can eat fish as large as an adult Swordtail. If you ever see these in a store, don't buy them unless you don't like smaller fish in your tank.
2 responses

• United States
25 Jan 07
LOL Lesson number 1, very very rarely can you trust the advice of a pet store employee regarding fish. Try a test, tell them you just got a 20 or 30 gallon tank, and set it up last night. Will an oscar be ok in there? If their response isn't-no, an oscar should be in at least a 55 gallon tank minimum, AND you really should cycle your tank first-are you aware of the cycling process? Then they really don't have much of a clue about fishes. Or even better, oh, I have a 10 gallon tank with mollies and guppies, will a couple of those fancy goldfish be ok in there as well? If they don't say no to that, then I'd be walking out of the store. I'm surprised with Petsmart though, they may not always have a clue, but they have little cheat sheets in the back with all the info of the fish on them. All she had to do was go back and look at it to see it's an aggressive fish. They've done it for me a few times when they didn't know the answer. Here's a link with a little info on your killer fish lol. I've seen those before, almost bought them, they are gorgeous. Glad I didn't now :) Maybe you can get another tank to rehome them or the other fishes in? Or, I bet if you take them back and talk to the manager about the advice you were given, they'd give you a full refund. Good luck!! http://www.liveaquaria.com/product/prod_Display.cfm?pCatId=1030

• United States
25 Jan 07
We did try to return them a week or so after we bought them but Petsmart doesn't take them back. Other pet stores in the area will take them for store credit but they are places I would never buy fish from (very disgusting looking tanks). The fish is labeled incorrectly at the store. They have it listed as a Leaf Fish, semi-agressive and they only got to 2.5" (according to the tag). Ideally in a 55 gallon tank filled with male & female gourami, Golden Wonder Kili's, tetra of varying shapes and sizes, Panda Cory, 2 Plecostomus, a gold fish (my son won it at a fair and at the time didn't have his own tank) and a few other fish, these fish should have been okay. As for their size we have dojo loaches and clown loaches which can get up to 11 inches.

• United States
26 Jan 07
You know with the other stores giving store credit, you could use it to buy medicines or other tank stuff, don't necessarily have to buy fish. Something to think about. You know what you should do, send an email/complaint to Petsmart's home office, and let them know it was mislabeled. Let them know you're really ticked etc. etc. I've had good luck with doing stuff like that. Bypass the managers and go right to the top, because as we all know, s**t rolls down hill....I'm surprised, they really dropped the ball on that one.