Bubbles, bubbles everywhere!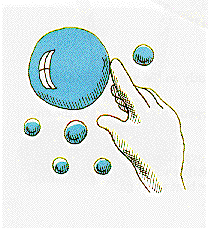 United States
January 25, 2007 6:12pm CST
Why am I always seeing bubbles float by my condo? They're never very big, either. They're always small. What do you think? Look! There's one floating out to the street right now! OH! It almost got hit by a car! Stupid bubble. Don't you know it's dangerous to play in the street??? Oh no! It's gone!! Poor thing. It was so young.
4 responses

• Canada
26 Jan 07
Sounds like you have a neighbour with a young child. Little ones love blowing and catching bubbles. My granddaughter justloves blowing them because her dog loves chasing them, she could spend hours sitting in the kitchen giggling(She is 14 months old) while the dog jumps, snaps and snarls at the bubbles as he breaks them. We can't wait until its warm enough outside for them to do this in the fresh air and wind..

•
9 May 07
Mmmm it brings a song to my head, can't remember the full lyrics and its starting to bug me now lol....i keep repeating the same line over and over!! It goes something like this...."bubbles....forever blowing bubbles, your troubles are never far away, bubbles and bubbles......then my head repeats trying to remember the rest!!!!! gawd i need to change the tune now!!!

• United States
13 May 07
LOL Sorry! Have you tried Googling the lyrics?

• United States
26 Jan 07
It must be the kids in your area blowing bubbles around. We do not have this issue as the kids here have grown out of that but my nephew loves to do it during the summer time when it is warm outside. I loved your comments and sense of humor. This was very funny. Right now all I am seeing is a lot of snow flakes. LOL

• United States
26 Jan 07
Step away from your computer.......