Good night sayings...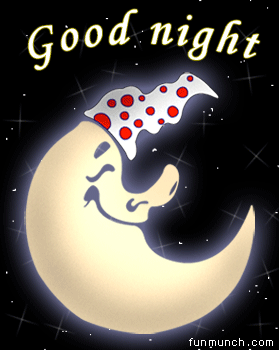 United States
3 responses

• Malinta, Ohio
31 Jan 07
Believe or not, I don't remember. I don't even remember what I told my daughter. I know I told her 'I love you' but anything else? hmmmmmmm...must be the MS.

• United States
30 Jan 07
I dont remember my parents saying anything unique to me when I went to bed other that "Go to bed" lol but with my kids I like to tuck them in every night and I have 2 different sayings that I say to them every night. The first is from a book I'm sure you've heard of it its called "I Love you forever" so when I tuck my daughter in at night I tell her "I love you forever I like you for always as long as I'm living my baby you'll be" then she turns around and says it to me but she changes the end of it and says " As long as I'm living my mommy you'll be" The other thing I say to her is "I love you from head to toes from belly to nose good night Princess Pea Pod I love you the most"

• Sweden
26 Jan 07
i always tell my mom i love her so much before going to bed. tell her night night and goes to bed after. she always reply with a night night love you, too line. even if i am already 28, i still do this to my mom and my dad when we get the chance to be together sometimes.

• United States
26 Jan 07
It builds a great bond! I tell my daughter Night, Babiss. Love you, and she says love you, too, Momiss. She's 13 years old. And I tell my (days from) 21 year old son, Night, Bud, and he tells me Night, Mommy.