Can't go without a Lover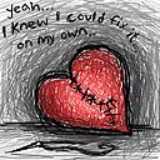 Philippines
January 25, 2007 8:44pm CST
I just broke up with my guy about 3 days ago. Then I met this really nice guy and i felt so comfortable telling him about what happend. And he told me that im the type of person who can't go without a lover. Which is i think is right since im on the rebound. Im finding myself a new man. Have you been like this? I mean you just go and find someone else soon after a break up? Am i just fooling myself?
1 response

• Philippines
26 Jan 07
Im a self-confessed romantic. But im more of loving love than loving a guy. I guess we're the same. Just know yourself more, and love yourself too so that you can don't end up hurting yourself.

• Philippines
26 Jan 07
I guess i am. I love being in love although sometimes im not sure if i really love the guy im with.