Hav you been there in camiguin?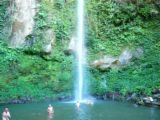 Philippines
6 responses

• Philippines
26 Jan 07
Nice place but I was never given the chance to visit that place but I see the whole place in the movie of gelli de belen and seems a pretty place for vacation. Hope I will have the chance to visit camiguin on the coming days.

• Philippines
27 Jan 07
ive been to camiguin island couple of times.. some parts of it are quiet remote and people are, yes, living a simple life. the sea surrounding camiguin island is crystal clear. the road are all good and cemented. i visited the Ardent Hotspring and it was really an awesome place with the trees and pools. one should be careful not to be soo eager in diving the hot springs because its really hot :D you need to acclimatize ur skin first by swimming in the part of pool where the hot spring does not directly come from. Camiguin island is also one of the best dive site ive been into especially along the waters of Guinsiliban. your trip to this little island is really worth it if u like to come. there are lots of scenery one would truly enjoy. you can visit all tourist spots in this island in just 1 day of touring, you can rent a motorbike that will take u wherever u wanna go for only 300-500 pesos. not that bad eh? people have to earn a living. ;D

• Philippines
27 Jan 07
Nope!but i already heard that place...they say its like a paradise..Im looking forward to go in that place.If I had given a chance.

• Philippines
26 Jan 07
Camiguin? i never had been in Camiguin but according to my friends they says that a lot of wonderful places is there.

•
14 May 07
I used to visit Camiguin every year since I was born since my Mum is from there. I would say it's one of the beautiful places to have your holiday which is why there are a lot of foreigners that visit the place every year and sometimes ends up buying a property there. The places to visit there are: White Island Sto. Nino Cold Spring Ardent Hot Spring Katibawasan Falls Walk Way Sunken Cemetery Old Ruins of San Roque Church Tuasan Falls Binangawan Falls Macao Cold Spring Tangu Hot Spring Mt. Hibok-Hibok Old Volcano landmark for Panaad Mantigue Island Burias Shoal (Dive Spot)

• Philippines
27 Jan 07
ive always wanted to go to Camiguin! but i have never got any opportunity to go there! most of my batchmates have been to that place and they it is a gerat place. if eve i'll have enough money, i'll absolutely go there... go the white island, sunken cementary, hot springs and all those stuffs..