Immunizations ....

Canada
January 25, 2007 11:35pm CST
What do you do to prepare your baby for their immunizations, friday my little girl needs her 3rd set of shots. The first time when she was 2 months old she was not a happy camper AT ALL. she was really cranky for about a week after. and the second time, well that time wasnt' so bad. she was sleepy alot, but i couldnt give her any medication because everytime i'd get a drop of it in her mouth she would vomit. Any suggestions on helping her cope with the pain and temperature that goes along with getting shots ?
6 responses

• United States
27 Jan 07
Give your child the medicine before you go to the appt. that way the medicine is already in her before she gets worked up and can't take it. This will help with the pain and keeping the fever down. This is about all you can do for your child.. when they get older you can give them suckers after their shots to help them etc. but just be there to love and comfort your child.

• Canada
27 Jan 07
Yea, i tried the medicine before we went trick, but she would/could not keep it down. I dont know if she's got a weak stomach or she just gags on the taste.. but it wouldnt stay down, i've tried about 3 times between yesterday and today and she just doesn't keep it down! but she's doing ok. just a little cranky, and she's sleeping quite a bit.

• United States
30 Jan 07
Oh gosh, that's hard for you then if she won't keep her medicine down even before you go for the shots. Talk to your Dr. about a tylenol suppository--I know some people that have kids that can not keep medicine down & the only way is for a tylenol supp. I don't know though-- if it's not a problem for your child, don't worry about it--but, it is one way to keep a fever under control and also lessen the pain.

• United States
27 Jan 07
i always gave my son motrin before we even left for the doctors, that way he would not even have the fever to begin with. i also bring a little ice pack to put on the injection sight after they gave him his shot so that it would numb it for him and not get so sore.

•
26 Jan 07
Wow, reading these I guess that my daughter has coped really well so far. She must be the same age as yours because we're getting her third set next week. The last couple of times, she's been fine with the jabs and we gave her calpol when we got home 'just incase' but only one dose and she was pretty much fine afterward. The poor little mite had to have blood taken from the back of her hand twice before she was a month old. That was tough to hold her still while she was in pain, but as has been said, it's for their good in the long run.

• United States
26 Jan 07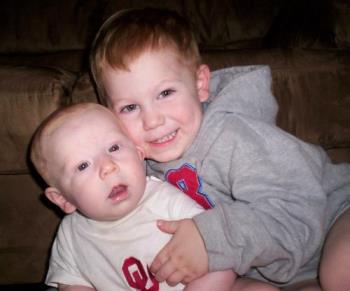 well, niether one of my sons have had any adverse reactios to thier immunizations (thankfully), other than crankiness. Usually, I give him tylenol beforehand and try to set his appointment right before naptime, that way he can "sleep it off" a little. For me, it's more preparing MYSELF for thier shots, b/c it breaks my heart. I know that the first time my oldest got his shots, I cried...I was looking into his eyes when they did it, and it broke my heart. It's one of those things, that you HAVE to do as a parent to protect them, but it doesn't make it easy.

• Canada
27 Jan 07
I know how you feel, i cried too. they just look up at you like MOMMMY!! why are you letting this person do this to me?! it hurts! and oh i feel so bad everytime i have to take her to get it done.. now she's got another 6 months to go before she needs more so hopefully she'll forget all about it. but i won't!

• United States
27 Jan 07
Try to give her the Tylenol before the immunizations and it will help her afterwards with the pain.

• United States
31 Mar 07
I also give DS tylenol just before we leave for the doctors. It gives it enough time to get into his system. He hasn't had any problems yet with the actual shots, and only once did he seem like he needed more tylenol later on. Good luck!