Anybody remember the movie "TRON"?

Hong Kong
January 26, 2007 7:01am CST
Recently, I saw it again in the DVD and is still great. The movie is pure magic I think. I remember when I was young, I was pretty obsessed with this movie. The story is about a hacker who is accidentally go into the world of computers. The idea is really cool at that time. Not to mention those light emitting armour they're wearing and the cyber looking cars in the film. Anybody remember this movie?
10 responses

• United States
27 Jan 07
I really have never heard of this movie....on a rating scale on 1-5 what would you give it. I might rent it if it gets good reviews from you guys on here. THANKS!

• Hong Kong
28 Jan 07
I'll rate this 5 if I could. One of the best 80's movies.

• United States
28 Jan 07
I loved that movie as a kid. My daughter is big into the Kingdom Hearts video games, and Kingdom Hearts 2 has a section set in the Tron world, it's really cool to see things I loved as a child come back and my own children get to enjoy them. Of course, I got the Neverending Story for them and they were unimpressed by the special effects ::rolls eyes::

• Canada
27 Jan 07
I LOVE TRON!! I actually introduced my kids to it a few years ago and they loved it too. My oldest, who is nearly 14, was commenting about how archaic everything seemed in that computer world. I laughed and told him that compared to now, the 80's computer WERE archaic, so that was understandable! As an aside, I had SUCH a crush on Jeff Bridges when this movie came out!!

• Malaysia
28 Jul 12
of course.i remembered...i watched it back in 82 when it frist played in the cinema.. i got the bluray version of this movi etoo..plus a 3D version of the new sequel.Tron Legacy..

• Malaysia
28 Jul 12
wow..this discussion is like 6 years ago..when there were no blurays invented yet.. and no talks about a sequel to TRON.. felt like i travel thru time..lol

• India
28 Jul 12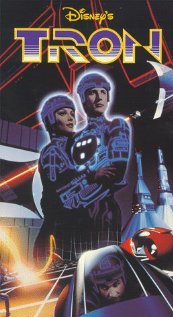 I haven't seen the movie TRON, but it's seems to be the first part of TRON: Legacy released in 2010. I have seen TRON: Legacy but didn't know there was a movie TRON, I will surely will watch this movie to see how the first part goes. There is a good rating in imdb for TRON ...

• Malaysia
28 Jul 12
yes..TRON ..back in 1982 is the first movie to use computer generated special fx extensively.. a ground breaking film at that time.. painstakingly created . ofcourse if u watch it today..and compared to the new TRon Legacy..the special effect for the original Tron..is laughable due to its age..but still..a classic work for those who knows about this kinda movie.

• Omagh, Northern Ireland
16 Dec 10
I never actually got to see TRON in the Cinema,but I enjoyed seeing it on video later,and a couple of Years back bought myself the 20th Anniversary Collectors DVD edition of it..and now I'm looking forward to seeing the Tron:Legacy sequel which is due to release this week!


• United States
10 Feb 07
I don't remember ever watching the movie "Tron". I have seen clips of it though. It was my fiance's favorite movie ever when he was younger. He keeps saying we will have to watch it someday soon.

• United States
8 Feb 07
I remember it. It was one of my favorite movies as a kid. I just started taking computer programming classes, and Tron and Reboot have been in the back of my mind constantly. Great movie, and Reboot was a great show. (and Kingdom Hearts is a great game)

• India
27 Jan 07
Released in 1982,disney's sci fi film tron took movie goers into a new realm of move special effects.The movie tron takes place inside a large computer network that has fallen under the tyrannical control of MCP(master control program).TRON,FLYNN & YURI r d heroes in this film who try & free the system from mcp's control