AMERICAN DAD: Does anyone actually think it's funny?

United States
9 responses

• Canada
30 Jan 07
i think the show is rather amusing, i dont find it nearly as funny as family guy, but it is funny, i bought the boxset the other day, wanted to wait for the price to go down on it first lol but i love the show

• United States
29 Jan 07
I love the show. A lot of it is strict political based humor though, so you have to keep up with politics and be able to laugh at it.

• Romania
26 Jan 07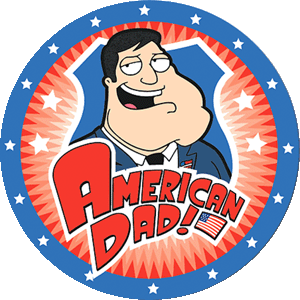 I think American Dad is one of the funniest tv shows i've ever seen. I've seen every episode I could get my hands on from the internet.


• United States
27 Jul 11
American Dad is a corny but funny show. I don't watch it all of the time but the few times that I have watched it I had to laugh when I could and then there were times. When it was corny I can only say that they don't have the right writers some times for some of those jokes that they try to make. Now if you like American Dad I know that you have to like Family Guy too. Cause most of the time they have them on together. Both shows are funny and corny at the same time and I have to say that they are no that bad. Yet they don't compare to the Odlongs or the Simpsons those are funny shows for real and If there is anyone that know about them they will agree.

•
9 Jun 07
Id put my house on that every one of you that dont like the show are american??? when cartoons make fun of the british i bet you laugh your socks off , like on family guy when peter joined that american football team? and he got trasnfered to the silly nannys in britian? i bet you all laughed really hard but now a cartoon is making fun of the americans its a different story i thought it was the funniest cartoon i have seen since family guy.

• Australia
29 May 07
American Dad is awesome! The one liners, the tangents.. Hailey... you can't go past quotes like "Great grizzly Adams, who shot the gardener?" when Francine walks into the bathroom thinking she is still a teenager.

• United States
6 Feb 07
I went into it having my expectations set pretty high because of my love for Family Guy. Sadly, it fell quite short. Don't get me wrong, it's a pretty funny show, but I think it requires a certain kind of sense of humor and it certainly isn't as overall funny as Family Guy is. I think you have to be one of those types that likes to read the political cartoons in the newspaper and thinks they're funny (which I'm not).

• Canada
30 Jan 07
NOt at all...its boring...its no family guy...now thats funny...:}}