What sort of fruits do we find antioxidants?

Malaysia
January 26, 2007 9:40am CST
I have been rather conscious of the fact that we need to consume lots of antioxidants. The big C is something we should not take lightly. Recently, there have been much seminars on wellness globally. I believe in taking lots of fruits. However, not all fruits may be necessary. I am in the opinion that we need to take fruits that contain plenty of antioxidants. May this discussion brings out experiences of different people who have knowledge of antioxidants. What are the best fruits with this value?
6 responses

• United States
26 Jan 07
what i've read before on the health magazine that that fruits with high antioxidant contents are strawberry , grapes , cranberry & grapefruit. there are also available in the markets today of grapeseed extract capsules that we can take daily for good health & pleasant skin.

• Malaysia
28 Jan 07
Grapeseed has very high content of antioxidant. Once, I tried to use a manual method of preparing it. Literally, I had the seeds pounded and crushed to fine powder and mixed with my drinks. It was such a task that I decided to look for the processed types that are sold in the shops.


• Malaysia
26 Jan 07
Good list you have got here. I suddenly thought of one more fruit found in the asean region. It is called the dragon fruit. There is a variety of breeds but I was told that the Taiwan breed is the best. It is purple in color. The others I have seen are either white or green. I have tasted the purple colored type and it taste really fantastic.


• Sweden
26 Jan 07
we do have the same line of favorites when it comes to fruits!

• Netherlands
26 Jan 07
It's not just fruits, but veggies also.... Broccoli for instance contains a lot of antioxidants. We eat it regularly. As for fruits, you should look at berries like raspberries and granberries. They are famous for it.

• Sweden
26 Jan 07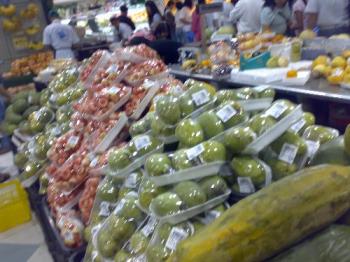 i am not sure though. but i love apples, grapes, oranges, bananas, papaya, watermelon, pineapple. almost all fruits, i like to eat. i always have atleast one kind of fruit a day. usually, i go for apples. and i do think apple contains anti oxidants, too.

• Philippines
13 Mar 07
Any fresh fruit would do. Fresh fruits contain lots of vitamins and minerals.