What's your dog's game? And how old is it?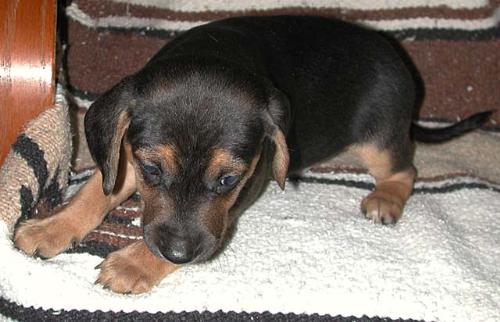 Portugal
January 26, 2007 10:32am CST
I was just wondering about everyone's estimation pet's background, and this only applies for dogs, but of course. I have one black dog of crossed breed named Wendy and we've had her for some 5 or 6 years now. What about you? What's your dog's game? And how old is it?
6 responses


• Portugal
26 Jan 07
You seem to have a naughty dog in there ;) Maybe he'll behave more like a proper dog whenever he gets older. Thanks for your reply.

• Portugal
29 Jan 07
My dog's name is Guze (a cocker spaniel), he had 4 years old.

• United States
29 Jan 07
We have a cocker spaniel here, and her given name (by the previous owner) is Precious. She is very precious, but the kids and I have named her several other names, ferocious (she wouldn't harm a bug..lol) rocious, roe, roby, row row, ro ba do bo, little miss row, and row reee to name a few. She comes to all of them! One day, my neighbor asked me, "what really is your dogs name?" (I had to think about that one!!) We don't know for sure how old she is, her previous owner found her at a pound, she was a runaway that someone had brought to the pound, but our best guess is that she's around 12 - 14 years old. She's a great dog!!

• Portugal
30 Jan 07
Hahah, nice to see other people have alternative names to call their dogs as well, though I don't think I have nearly as many as you :D Thanks for your reply.

• Singapore
27 Jan 07
I have a dog names Chewie (bad name to give a dog...)As her name suggests, she chews a whole lot of thingys. She will be 2 this may. I also have 4 cats=)

• Portugal
28 Jan 07
Hehe, cute name to give to a dog in there :) Does she gets along with your cats?

• United States
27 Jan 07
I have 4 dogs! My oldest one is 11 years old and his name is Scotty. Of course he is also the smallest one. We keep him in the house. Next is Jasper and he is 7 years old and he is the biggest one. He is German Shephard/Chow mix. Next is Fluff and she is 4 years old. Then we have our youngest dog, Freckles who is 2 years old and she is Jasper and Fluff's pup. The only one we kept and I love her very much. She knows her name but if you say puppy or baby she will look at you because I call her my puppy or my baby all the time! I also have 8 cats but you didn't ask about cats so I won't bore you about them lol. As you can see I'm quite the animal lover. My husband not so much but he loves me and knows how I am about my pets so he puts up with it. All of the dogs except for Freckles were rescued from mean people who were either going to kill them or take them to the pound.

• Portugal
27 Jan 07
Woah, that's a whole lot of dogs and a bunch of interesting stories you have in there attached to them, 'twas a nice read :D Thanks for your reply.


• Portugal
27 Jan 07
Seems someone is a fun of japanese names for pets, huh? ;) Cheers for the answer.