sachin tendulkar.....captain?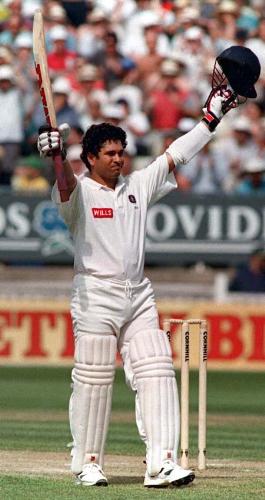 India
January 26, 2007 4:24pm CST
hay any sachin tendulkar fans in here.....what do u think of sachins current form in cricket, should he be again made the captain as he is the seniormost and most experienced of the team or he should remain in his current position?
8 responses


• India
26 Jan 07
ya thats true, but he lead the team well when he was captain, and maintained his form too

• India
29 Jan 07
hi max what type of form u are talking, in last year he has scored only one half century in test matches in last month of the year

• India
29 Jan 07
sachin is better off with bating only .....no need of taking the extra stess as captain which might affect his performance as we have seen before.

• India
27 Jan 07
i dont thhink sachin should made captain again because he has very little to retire from the game so i think the captaincy should be given to a younger member of the team. then he will able to handle the pressure after the senior members getting retire.

• India
27 Jan 07
I also agree that Sachin Tendulkar should not be given captianship. One of the reason is that the pressure. Second if made captian most probably Sachin Tendulkar's batting form also will be lost due to pressure of captancy.


• India
29 Jan 07
I agree sachin is the senior most and most experienced player of the team. But he is not playing upto his potential/level. According to me, we should allow him to take rest. Then only he will be fresh in the world cup and be fit to play also. This is very important in cricket that give rest to the main players and keep him fresh and fit for world cup. For example, Shewag is not playing west indies series. He is not at all in form and not playing to his potential. We should consider about sachin and he is old now i.e. 30 plus. Frankly speaking this is the last world cup. Sachin's past cricket is the best.

• India
28 Jan 07
no i dont think that he should once again do captaincy 4 india even i think he should b dropped from d team but as a bowler u can take him in d team who can even score few runs when some weaker opposition or luck matters

• India
27 Jan 07
he is not successful captain. There is a very good player but he lacks leadership quality which we have seen earlier when he was the captain. He himself opted out from being the captain of the team. So there is no meaning in making him the captain for the coming World Cup. I think dada is the obvious choice if the Indian management wants to change the captain at all. But I think it will not happen because there is a lot of politics behind dropping Ganguly and snatching the captain ship from him. And I would say that our coach just wanted to get even with Ganguly and so he was so keen in kicking him out of the game. But he made a very good comeback and proved that he is the king of one-day for India.

• India
27 Jan 07
let him play peacefully guys...dont mess wit his remaining career if u wanna see more of him flourish.