what the taste of excotic foods like " snake, frogs, and worm"

Philippines
January 26, 2007 11:40pm CST
i already seen people who have eaten excotic foods..but i dont know the taste of it. anybody of you tell what the real taste of it? its good for the body or bot?
5 responses

• Philippines
2 Feb 07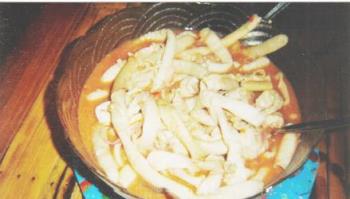 I had eaten a frog leg, rat and snake as well as what they call soup number 5 which is made of sea worms. It tasted so good that you can't hardly know that it is come from such animals. The taste is like of chicken meat and I think that the one who make it is a good cook that's why I could say that I hardly knew the difference from chicken meat. There's is no certain smell but the taste is different that you would want to eat more of it.

• Philippines
21 Mar 07
I believe 'soup number 5' is a bull's or horse's genitals, supposedly an aphrodisiac. No kidding. Have a great day ! :-D

• United States
27 Jan 07
I have eaten Frog legs and they are really good..They to me tasted like young chicken. A bit boney, but very good..I have also eaten rattle snake meat when I was a teenager. We had come out to Las Vegas to visit my Aunt and Uncle. She cooked up some rattle snake, but she didn't tell us until we all had eaten it. Then she told us it was rattle snake meat. It also tasted like chicken. My whole family didn't know it like I said until she told us.

• Indonesia
27 Jan 07
Well, I've tried frogs, and they're very tasty. I used to eat eat 'swike'. Swike is a soup dish, with frog's leg and some tofu with special inggredients. But lately my mom didn't buy it anymore, since she said that frogs are dirty. I've heard many people said that snakes are good for our body, but I've never tasted it, since I think they're disguisting. The same for worms too.

• United Arab Emirates
12 Apr 07
Well...... Me too i dint have any taste of this kind of weird things;ive'd got an email from my friend saying this is the best selling items in china.Whatever it may be good for health or for bot you might try it for once then you can say whether its good or bad.... im gonna try it too!!