Is Hilary Clinton going to dethrone Bush?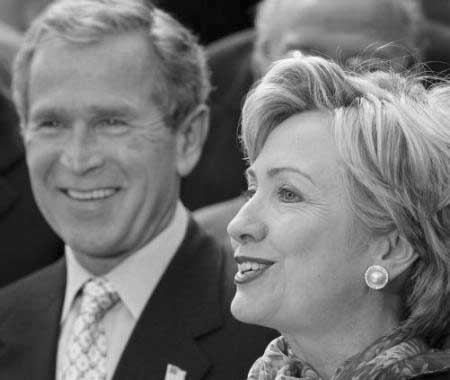 India
January 27, 2007 12:57am CST
In the next U.S presidentship elections can Hilary clinton defeat George W. Bush?The cruel deeds of Bush may pave a path to his party's disaster.
2 responses

• Canada
27 Jan 07
Thankfully, dubya isn't allowed to run for a theire term. but don't think that America's foreign policy will change ine little bit! However, even though we all know Hillary would be a good president, America is still not going to vote for her. Too many fundamentalist christians who think a woman's place is in the kitchen, not the House

• United States
27 Jan 07
Ah yeah, Bush and his followers are going to exclude the woman in government because they are the religious right. Hmm. Wait, what about the record number of minorities, including women (Condi is one) that Bush has appointed to high positions? What did the last liberal President do? Oh yeah, he had an affair with an intern in the oval office. Please...

• United States
27 Jan 07
I love that people can hate bush so much and they are so knowledgable, but really they have no idea whats going on. A fruit bat could beat Bush in the next election because he isn't allowed to run anymore, its constitutionally forbidden. Please, whoever you end up voting for from whatever party, please research the issues and our government before voting in 2008, for the sake of our country!