Pink or Blue?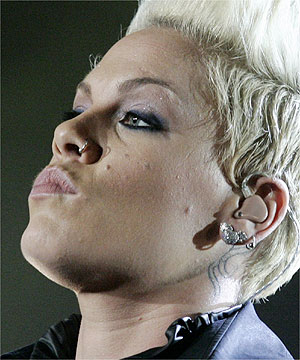 Egypt
January 27, 2007 2:00am CST
Boys wear Blue and Girls wear Pink .. where this came from really? Is there's any religious or mythological roots for this? Why men wearing pink are seen as gays and women wearing blue are not thought to be lesbian or butch? .. I'm just wondering.. anyone has any thoughts about this?
7 responses

• India
27 Jan 07
well, you might be surprised, but before the second world war.. pink was considered the color for boys (as a watered-down red, which is a fierce color) and blue was more for girls because it was more delicate and dainty.. so it was considered prettier for girls. after the world war II.. somber tones in color came back (since it was just khakis during the war). having replaced men in wartime industries, rosie the riveter of the '40s returned to being susie homemaker in the '50s. reflecting the "pink-is-for-girls-mom-in-the-kitchen-father-knows-best" mentality, she was admonished to "think pink"- to wear pink lipstick, drive a pink car, or buy pink household appliances- all of which was reinforced by an all pink sequence in the classic audrey hepburn technicolor film, funny face. the quintessential icon of feminity, barbie, was born and much of the time, she wore pink!!

• Egypt
27 Jan 07
this is really interesting information, thank you a lot .. it just brought to my mind an old film where soldiers were wearing pink in a colonial British battle in Africa.. someone was saying that they were easy target like turkeys .. they didn't use camouflage back then..

•
27 Jan 07
Ok I am answering from my email so if I am repeating someone, just over look me. I seen on a show, that blue was thought to be a protective color against evil spirits, so being boys were very valuable over girls centuries ago, they would wrap their little treasures in blue clothes for protection. Girls, we did not get a color until centuries later and it was luck of the draw it was pink. There was no special reason for this color. Now to being a female, that stinks. :-)

• Australia
27 Jan 07
http://tinyurl.com/2fspuc Since babies look alike, it was long ago decided to identify their sexes through use of different colors. In ancient times, it was believed that evil spirits menaced the well-being of infants. It was also believed that evil spirits were allergic to certain colors, especially to blue. According to Dr. Brasch: "It was considered that the association of blue with the heavenly sky rendered satanic forces powerless and drove them away. Even in our own time Arabs in the Middle East continue to paint the doors of their homes blue to frighten away demons. Thus, the display of blue on a young child was not merely an adornment but a necessary precaution." On the other hand, since female babies were considered inferior, it was felt they required no special color to protect them. In later times, parents became very much-conscious of the neglect of girls and introduced for them the new "pink" look.

• Philippines
27 Jan 07
I think it's just been pre-programmed psychologically into our minds that pink is for girls and blue is for men. It's just that pink has been used to designate femininity and blue for masculinity. But for me, we cannot tell a person's gender by the color he likes. I like pink not because I am girl. I like blue as well, but it doesn't mean that I am a lesbian or boyish. Both are my favorite colors. Nowadays, anyway, I have noticed that more men have started to wear pink - pink polos, t-shirts - without fear of being called gays. Some men just laugh it off when they are called gays because they wear pink. I think, people today have slowly evolved in terms to fashion.

• Egypt
27 Jan 07
I'm a man and I hate wearing bright colors, not just pink, also red, yellow light green, etc .. I think it's just my nature not because that i think that men wearing them are less masculine .. there must be some ladies who hate pink maybe? it's just different tastes but i just don't know where the idea came from.. why it wasn't boys brown and girls red for instance ?

•
22 Feb 07
i think it had come in from the early 60thees or something!! when the girls used to wear pink mostly and the guys some ruff n tuff color like black or blue!! so it kinda got stereotyped!! moreoover...pinks looked as a soft sensual color...so it became to be connected with girls!!!

• United States
28 Jan 07
I am a girl and I love pink! Not because it is a girl color, but because I have always loved the pastel colors rather then the bolder ones. I even like pink on a guy. This has already been said but this is the only reason I can find about the different colors. The oldest explanation dates back to approximately the 1400's, originating in England. It was believed that demons and evil spirits hunted young males. Boys were dressed in blue because it was the color of the sky – and consequently a resemblance of Heaven and God. Girls were not dressed in blue because people felt that demons had no desire to possess girls. About a century later, little girls were given a color, too. Since boys and girls were "opposites," it was decided that girls would wear the opposite of blue, which is red. Red was considered to be too harsh a color for little girls. Instead, the pastel pink was used.