Where is the oddest place your cat likes to sleep?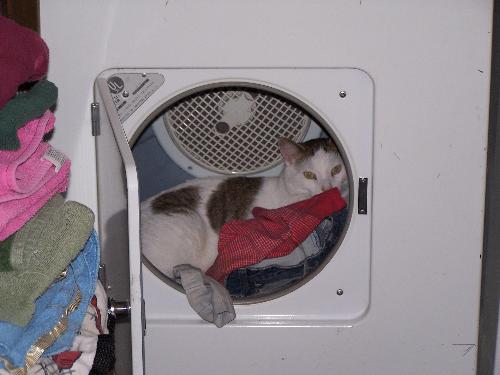 United States
January 27, 2007 7:00am CST
We have a metal rod style towel rack/shelf that straddles the back of our toilet and my cat jumps up and sleeps on the towels. There are other odd places she sleeps but this one is pretty odd and funny when I use the restroom and she doesnt wake up. lol Also, in the pic below is our other cat that loves to sleep in the dryer after we dry clothes and open it up. What odd places do your cats like to sleep?
10 responses

• Philippines
27 Jan 07
Our cats like to sleep in a cemented place where we grill barbecues. They like to sleep in the middle of charcoals and wood. They're lucky they're always caught alive.

• United States
27 Jan 07
Wow, maybe they want to be roasted for dinner. lol I bet if they did that while the coals were still hot they would find a new place to sleep! Nice comment blackaquea, anybody else have other odd places that your cats like to sleep?

• United States
27 Jan 07
The weirest place that my one cat likes to sleep is in my sons GI Joe tent. I used to have a picture but my computer crashed and I lost it. But it is so funny. When ever you would look for him there he would be sleeping in the tent. : ) My moms cat loves the dryer. Whenever she puts clothes in it the cat sits and waits for the buzzer to ring. She knows you will come and she loves to jump in.


• Philippines
27 Jan 07
well since i bought my tin trash can a few months ago I always see my cat in it sleeping!!! there was even a time that i have to throw the litters that was in the trash can because it was already full i didnt noticed that my cat was inside and i didnt realized that my cat was thrown out too...

• United States
27 Jan 07
That is very funny. Maybe your cat is actually an escape artist and is trying to get outside. Nice post :)

• United States
25 Jun 08
Our two cats love boxes. If we have one lying around, no matter how small it is, one cat always jumps in it and goes to sleep. Sometimes they both are in the same box! I don't know how they fit into it. The one cat likes to sleep in the bathroom on a towel we put on the floor for him. He stays in there for hours.

• United States
28 Jan 07
I would have to say the oddest is with our cat Pumpkin. He likes to go behind the tv in the entertainment center. He squeezes back there and sleeps, don't ask me why. The other strange thing would be the bathroom sink. We have a couple that will curl up in there and sleep.

• United States
28 Jan 07
One of my cats likes to sleep in drawers. As soon as you open drawers she is right there trying to get in. She is 2 years old and a really small cat. So I have even closed drawers without realizing that she is in there.

• United States
28 Jan 07
I have a cat that will sleep anywhere. Especially if a new box or bag is brought into our home. Anything new she will spend at least 24 hours laying in before she gets tired of it and moves on. I have a great picture of her sleeping in an empty box that a 12 pack of Minute Maid orange drinks came in. Half of her body is hanging out of the box.

• United States
27 Jan 07
Our cats seem to like to sleep all curled up in the bathroom sink the most, they're always in there. My family's had to learn to wash their hands in the kitchen lol. The one other odd place would have to be in our closets.

• United States
27 Jan 07
both of my cats sleep on top of the back of my recliner. They just started (or at least as far as i see) a couple weeks ago. Im still not too used to it, so sometimes im sitting in the recliner, the go up to sleep, and i get up for something. it rocks back and forth, wakeing them up, and they jump off.