Do you have a cat that should be called the streeeeeeeeek?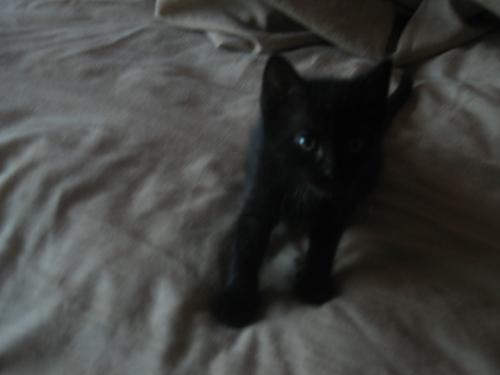 United States
January 28, 2007 11:57am CST
My kitten is NUTS! she pelts full tilt through the house in a blur of fur and paws and sounds like a herd of hourses running down the hallway, and we have carpet! She has a little bell on her collar and when she dashed through the house all you hear is paw beats and that bell. She is almost in motion from dawn til dusk. And man is she Frisky. We like to say that she is full of the joy of life! And it's true! Anybody got one of these type of kitties?
5 responses

• United States
29 Jan 07
We have two cats and they will chase each other through the house and up/down the stairs and they make alot of noise even on carpet. We always joke about them sounding like a herd of elephants. lol They just ran past me doing that now! Cats are funny.

• United States
29 Jan 07
my kitten is like that, and she drives me nuts sometimes, like when i am trying to sleep. but it is funny because she will come running out of my sons room through the livingroom and slide all the way through the kitchen because the kitchen floor is tile she will then slide right into the wall.


• United States
28 Jan 07
We've had our fair share of cats that do that. Most of ours are older now so they aren't usually like that but now and then suddenly it's like they revist their youth and boom they go through the house. This wouldn't be bad but they sometimes knock things over or just make a racket. One minute they are on the couch next in the front room and then back again up on top of the DVD bookshelf; all of this within a blink of an eye I swear. So you are not alone. Cats and kittens do this.