What are some crochet projects your working on,&how are you doing these projects

United States
January 28, 2007 4:53pm CST
I absolutly love crocheting. I was suprized a few years back, entering Jounior High School, realizing that many kids my age knew how to crochet. Currently I am making a scarf, but I would like to learn how to make a bag. If anyone could help me with this I would be extreamly greatful. In the near future I would love to learn how to knit. feed back please :)
8 responses

• United States
29 Jan 07
I too love to crochet. I am currently working on an afghan for myself. I have not tried a bag yet, but I am sure that a patter n can be found online! Try to find one on Dogpile.com

• United States
22 Feb 07
Thank you for your response and website suggestion, I will cheak it out. Good luck to you with your afghan and here on mylot.

• United States
30 Jan 07
There are some nice bag patterns on this site. Most of the patterns are free. You may want to try loom knitting,also.It is great you are crocheting, I was a little younger then you when I first learned,many years ago. The internet has so much advice and great patterns. http://www.lionbrand.com/patterns


• Canada
11 Mar 07
I have made scarves, bags, mats, and little toys. The stuffed toys are the most fun, I think. Lately I have been trying to make finger puppets. I have been having trouble with the ears, though.

• Philippines
11 Mar 07
Hi! I've been crocheting for almost 4 years now. I've never made any big projects but I've always made bags for me and my friends and sometimes I sell them to interested buyers. These are fairly easy to make for there are easy patterns here in the internet you can try. First try crocheting purses then when you got the hang of it you can make bigger bags. you can see some patterns and tutorials here: http://crochet.about.com/

• Grand Junction, Colorado
29 Jan 07
I'm glad that you like to crochet, I also like to d this but sorry to say that I can't make a bag. I can do dollies and baby blankets and that is about it. I have made some very nice intricate dollies though. Good luck with your crocheting and hope that some one can help you with making a bag.

• Kuwait
12 Mar 07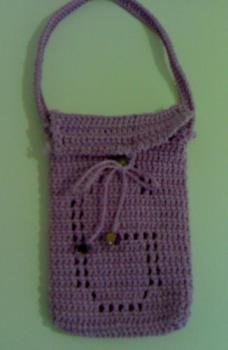 i am working on my friends new bag andi do it on my free time and while im chating with my friends too. i learn crocheting just last year only with my friends while im not working.

• United States
13 Mar 07
That looks great, yes its a great way to spend spare time :)

• United States
12 Mar 07
I have been crocheting since I was really young. It you go to http://www.crochetpatterncentral.com they have tons of patterns, and they are all separated by catagory. They also have instructions on how to do certain stitches. I mainly make stuffed toys and weird scarves to sell here http://stitchesandsteel.etsy.com If you'd like to learn to knit, search the web! It's a lot of fun. Good luck with your crocheting!