Do you know Chinese cuisine?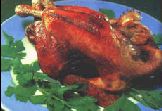 China
January 28, 2007 9:38pm CST
Chinese cuisine arts are famous all over the world. This is a recipe of Anhui Smoked Duck: Smoked duck Materials: 2 ducks with feathers 100 scallions 100g singer 25g anise Preparation: 1, Clean the ducks; rub with salt and pickle in a jar for four hours, turning over once. 2, Dip the ducks into boiling water until the skins shrivel; hang in a draft and rub off the feathers. 3, Put four thin iron sticks in the smoking pan; hang the ducks on the sticks with their backs downward. 4, Smoke the ducks for 5 minutes; turn over and smoke for another 5 mintues. 5, Put water, spices, soy sauce, scallions and ginger into a large saucepan and bring to a boil. Put in the ducks and simmer for 45 minutes; remove and chop into pieces.
6 responses

• Philippines
22 Apr 07
yes, since i love some food originally from china such as siomai, siopao, noodles yum yummy..also love spring rolls and buchi Authentic Chinese Egg Rolls (from a Chinese person) SUBMITTED BY: Mendy Ling "My mom is the best cook ever and I am a picky eater. If I like this, then you will. This is very authentic because my family is Chinese and I am too. This recipe is at least 300 years old in the Ling family." INGREDIENTS * 4 teaspoons vegetable oil * 3 eggs, beaten * 1 medium head cabbage, finely shredded * 1/2 carrot, julienned * 1 (8 ounce) can shredded bamboo shoots * 1 cup dried, shredded wood ear mushroom, rehydrated * 1 pound Chinese barbequed or roasted pork, cut into matchsticks * 2 green onions, thinly sliced * 2 1/2 teaspoons soy sauce * 1 teaspoon salt * 1 teaspoon sugar * 1/2 teaspoon monosodium glutamate (MSG) * 1 (14 ounce) package egg roll wrappers * 1 egg white, beaten * 4 cups oil for frying, or as needed DIRECTIONS 1. Heat 1 teaspoon vegetable oil in a wok or large skillet over medium heat. Pour in beaten eggs and cook, without stirring, until firmed. Flip the eggs over and cook for an additional 20 seconds to firm the other side. Set egg pancake aside to cool, then slice into thin strips. 2. Heat the remaining vegetable oil in a wok or large skillet over high heat. Stir in cabbage and carrot; cook for 2 minutes to wilt. Add bamboo, mushroom, pork, green onions, soy sauce, salt, sugar, and MSG; continue cooking until the vegetables soften, about 6 minutes. Stir in sliced egg, then spread mixture out onto a pan, and refrigerate until cold, about 1 hour. 3. To assemble the egg rolls, place a wrapper onto your work surface with one corner pointing towards you. Place about 3 tablespoons of cooled filling in a heap onto the bottom third of the wrapper. Brush a little beaten egg white onto the top two edges of the wrapper, then fold the bottom corner over the filling and roll firmly to the halfway point. Fold the left and right sides snugly over the egg roll, then continue rolling until the top corners seal the egg roll with the egg white. Repeat with remaining egg roll wrappers, covering finished egg rolls with plastic wrap to keep from drying out. 4. Heat about 6-inches of oil in a wok or deep-fryer to 350 degrees F (175 degrees C). 5. Fry egg rolls 3 or 4 at a time until golden brown, 5 to 7 minutes. Drain on paper towels. Chinese Roast Pork SUBMITTED BY: Christine Johnson "Marinated in a sherry honey glaze, then roasted to perfection, this dish will have you 'pigging out' to your heart's content!" INGREDIENTS * 4 pounds bone-in pork roast * 3/4 cup soy sauce * 1/2 cup dry sherry * 1/3 cup honey * 2 cloves garlic, minced * 1/2 teaspoon ground ginger * 1 tablespoon cornstarch * 1 tablespoon water DIRECTIONS 1. To Marinate: Pierce meaty sides of meat with fork; place roast in a large plastic bag. In a medium bowl combine the soy sauce, sherry, honey, garlic and ginger. Mix well and pour mixture into bag with pork. Press air out of the bag and tie securely. Refrigerate at least 8 hours or overnight, turning bag over occasionally. 2. Preheat oven to 325 degrees F (165 degrees C). 3. Remove roast and marinade from refrigerator. Reserving marinade, remove roast and place in a 9x13 inch baking dish. Roast in the preheated oven for 1 hour. Brush with reserved marinade; cover loosely with foil and roast for an additional 1 1/2 hours (or until internal temperature has reached 160 degrees F/70 degrees C), brushing several times with marinade. 4. Remove roast from oven and let stand 15 minutes. Combine pan drippings with remaining marinade. In a small bowl combine cornstarch with cold water, mix together and add mixture to marinade. Boil marinade mixture for 4 to 5 minutes, or until mixture thickens. Serve with roast.

• Egypt
13 Feb 07
Festive Char Siu Bao Char Siu Bao are the delicious steamed buns filled with barbecued pork that can be found in Chinese bakeries. A reader, Sue-On, has an excellent suggestion for making Chinese buns a little more festive – instead of placing the baos (buns) on aluminum foil squares before steaming, she uses paper muffin tin liners: "The liners come pleated and in different colours, so presentation is half done for you. I also use different colours for different fillings if I am serving more than two kinds at the same time, such as char siu and curry chicken." Jiaozi Dumplings Delicious Jiaozi dumplings are considered lucky because of their historical resemblance to Chinese money. In ancient times, Chinese currency consisted of dumpling-shaped silver and gold ingots called yuan bao. The dumplings symbolize wealth and hopes for a profitable future. In northern China, it is customary for families to spend the hours before Chinese New Year preparing these tasty dumplings, which are eaten after midnight.

• Singapore
5 Feb 07
I will try this at home. It sounds too good to be taste. Thank you for sharing this recipe, I hope you could add more on this discussion. I want to have a recipe for fish. I was able to eat from a Chinese restaurant a steamed fish with some sauces and herbs. I hope you could share us some recipes of this kind. Thanks again and looking forward for your next Chinese recipes.

• Philippines
2 Feb 07
this is scrumptious! i so like to try cooking it. we love cicken. but i love chinese foods as well. but i roughly know how to cook it so we opt to take it out :)