stay away from vonage

United States
January 29, 2007 7:26pm CST
My bad experiance with vonage!!! After ordering the service on 12/19/06 we tried it out and it was horriable , there customer service is horriable expect to wait 30-40 minutes to talk to someone from another counrty that you cant understand (no offense to anyone here) then be transfered to several other people who still cant give you an awnser.and the phone service is bad tons of static on the line constinly having the call dropped in the middle of a conversation, then I called and cancelled b4 my 30 days was up and was told that there would be no charges accurd to my CC then later i get an email saying they charged me 96.00 to my CC. So i call them and they say that they have no record of me calling them and cancelling. I have been fighting with them sine 12/29/06 to get my money back. And i will not dropp it!!! Then when i tried to get my phone # back to hook back up my Verizon service I was informed that Vonage now owned by # and i had to get permission from them to have it sent back to verizon. I did but it took 3 weeks to do and tons of cell phone bills because i was with out a phone line.If you do a search on the web for complaints about vonage there are TONS of them, including people that have had to cancel CCs and bank accounts to stop them from taking your money out after you cancel.there service, and then they are being harrased by Vonages "collections" department because they have not paid, mind you pay for a service that they have already canceled. UGH just need to vent
4 responses

• Philippines
30 Jan 07
Thanks for the information. We have 3 boxes of vonage ready for installation here at the office. We currently use Lingo and we wanted to try a new VOIP provider. I don't hear much feedback and reviews about Vonage, so we picked Vonage among the list of VOIP providers that we wanted to try. I wanted to ask quick questions though about your VOIP connection.. Are you using your VOIP phone at home or business related? How many bandwidth do you have? Is your computer connected to the same network where your phone is at?

• United States
30 Jan 07
This was for my home phone serive and my computr is on the same network

• United States
4 Mar 07
Hm, yes I heard about that before. Well since we don't have high speed internet access it is not possible to use them, also if you call your credit card company to have them block the charge they get down to it. Actually if that happened to me (which it has before) I called their corporate office and complained about it (with another company). They were so nice and gave me a refund and even called back to make sure everything was okay. I would also contact Better Business Bureau, too, their website is http://www.bbb.org Thanks for telling me about their service. I hope you get everything resolved, have a nice day. Pablo

• United States
4 Mar 07
Sorry I meant to say another company, not vonage. I called their corporate office and complained. Perhaps you should do that? I think that is terrible that they are treating customers that way. Have a nice day.

• United States
4 Mar 07
My friend has vonage and loves it- She is rarely without a phone- I think the only time she was out was when roadrunner went down (cable modem hookup)- It wasn't a problem with Vonage. Her line is not staticky at all. I have used her phone many times. I believe she pays $25 a month for unlimited calls all over the states. I'm sorry to hear you had such a bad time-- I was going to check into Vonage- as my Frontier bill keeps getting higher and higher- I'm going to look for online reviews as alot of people here had problems with them! So I say thanks for the heads up..

• United States
22 Feb 07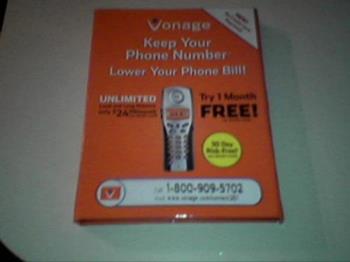 That is terrible what you went through as it sounds like they are very poor in customer service and can not be trusted. Thank you for sharing your experience with us and hope that others will be careful when choosing another phone service. "If it sounds too good to be true, it usually is not true", when you hear about companies providing better services like Vonage did. I will definitely stay away from them based on your experience.