Too much plastic surgery and skin lightening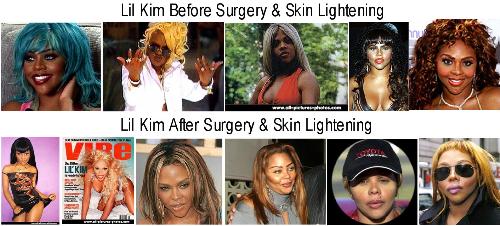 Canada
January 29, 2007 9:09pm CST
Lil Kim has become todays female Micheal Jackson. Its sad but its true. This is not to diss her or to put her down, its simply to state that I believe society has such a big influence on how we see ourselves. All the shows about makeovers and overnight plastic surgery miracles are ruining the image we have about our beautiful selves. She looks like she is trying to become the black Pamela Anderson. Compare her skin/nose/lips/eyes in the first picture and in the last picture!!The surgeries has left her nose lookin like Micheals and it aint cute. The blond weaves and blue contacts need to stop, LIL KIM let your true colors show, dont let society tell you what you should look like. If you had the money would you have this many plastic surgeries? I wouldnt. One or two OK, but she has gone too far. What do YOU think about her transformation?
4 responses

• United States
25 Feb 07
Michael Jackson is disgusting and so is Lil Kim!! Kim was cute the way she was.....now she looks horrible.

• Belgium
23 Feb 07
Yes, her new nose looks like Michael Jackson's! If you see her before and after on photos, you see two different persons. But hey, I like her music and that's what matters to me! Greetings, Cedric.

• United States
31 Jan 07
I dont see anything wrong with doing surgery to better something here and there, but she has went way to far, shes not bettering her appearance at all. Just like michael she is making it worse.