Optimism is what makes life lively and lovely to live.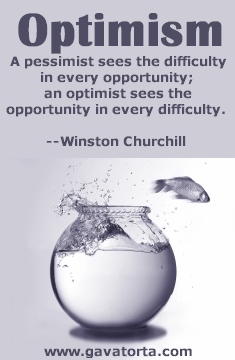 India
January 30, 2007 1:14am CST
I certainly beleive that one should be optimist in all their thoughts....i was such a pesimist,but meanwhile one of my frnd made me clear that every one on this earth does have some or the other problem..theres no need to cling to that n ruin ur beautiful life...n people who care about what people talk about them or wat rumours are spreading about them,pls dont mind them....lifes so beautiful,have fun,enjoy it to the max,wat so ever happens....So i say just be optimist,,because pesimism is a step forward to create unhappiness n sorrows around u... A pessimist sees the difficulty in every opportunity;an optimist sees the opportunity in every difficulty
3 responses


• India
30 Jan 07
well,, u r very true,,optimism is da right way to live happily,,one can do nuthin bein an pesimist unless a loser..go ahead wid a positive thinkin n evrythg will come in ur way wid a gud spirits n b fortunate in all sense,,be happy n make others happy too...

• India
30 Jan 07
There are always advantages being an optimist. There is a very good example about optimism ie Looking at a glass with half water in it optimist sees the glass as half full where as pessimist sees the glass as half empty. That really makes a difference.