Can you guess whether a cat is male or female just by looking at its face?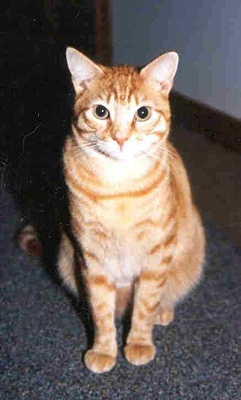 India
8 responses


•
3 Feb 07
Well, not definitively, no, but I have 5 cats (4 male and 1 female) and most people can pick out the female straight away. She is not only smaller than the males, but she has a more delicate bone structure, and a little tiny face like a flower, whereas all my boys are much stronger, and bolder looking.

• United States
3 Feb 07
Hi there...depending on the breed background of the cat size isn't the most definitive way to determine a male from a female cat. Maine C O O N cats are much larger than most other domestic cat species so a female Maine C o o n would certainly not be a male even though it is much bigger. The only way to 100% determine a cats gender is looking at their reproductive organs ....called sexing a cat to differentiante gender. Here's a website that shows an illustration: http://www.pawsonline.info/sexinga.htm

• Greenwood, Mississippi
12 Sep 08
I can't do it, but it doesn't surprise me that people who are around a lot of different cats do get a sense for it. I can relate to this discussion because I thought my male cat was a female at first...it was kind of a shock to learn otherwise, considering I'd already picked out a female name and all!

• United States
4 Mar 07
Well, I sure don't think it is possible.

•
24 Feb 07
Normally I can tell by the shape of their face. I have noticed that male cats tend to have longer faces with more prominent cheek bones. However with females cats, they tend to have a bit more of a roundness to their face, it is usually short in appearance and more fluffed up.

• United States
5 Feb 07
i wouldn't be able to tell if they were the same size but like another person in here said males do usually tend to be bigger

• Virgin Islands (U.S.)
3 Feb 07
well i cnt really tell.. i can only tell with a dark cat like on of mine.. i have his cat and he is dar gray in the mornyn but in the night he is more like when the moonlight hits the ocean.. how the color of the ocean is.. he changes colors.. in the night.. lol.. sounds weird huh.. but its true